Peter J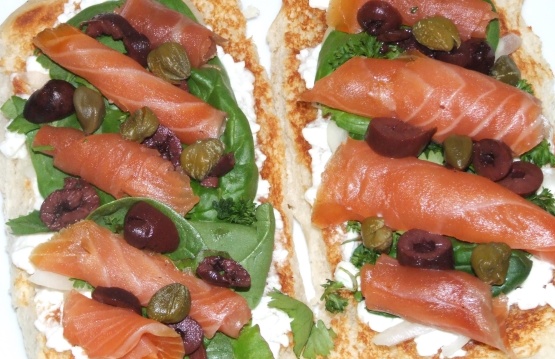 A recipe for smoked salmon lovers! This is not your traditional baked-in-a-wood-oven pizza, but it's a very simple, quick to make and delicious combination of the classic ingredients which go so well with smoked salmon, served on crisp pita bread. I found the recipe this morning while at the hairdresser's, bought a copy of the magazine, and made these for lunch today. Just wonderful for a quick, light weekend lunch! The recipe I've posted here has been adapted slightly from the recipe in the November/December 2005 issue of the 'donna hay magazine'. I have also posted Donna Hay's recipe for haloumi and couscous cakes which she suggests serving with smoked salmon, so it's another recipe for smoked salmon lovers! Donna Hay is an Australian chef.
Preheat a char-grill (broiler) pan over a high heat.
Brush the pita bread quarters with oil and cook for 1 minute on each side or until it is crisp and golden.
Spread the pita bread with the sour cream and top with the salmon, baby spinach leaves, chives, dill, capers, olives and red onion.