Smoked Pork Chop & Sauerkraut Casserole
Bergy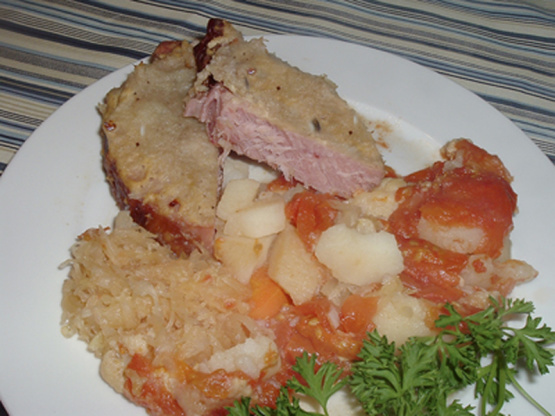 I searched 8 pages of Sauerkraut recipes and not one had smoked pork chops so I made up this recipe and - well, not bragging, but it tickled our taste buds! This is not a recipe for a true sauerkraut lovers as it is very mild re the sauerkraut. Hey you non "Kraut" lovers you may love it! Instead of tomato juice you may substitute wine, chicken stock or apple juice, This recipe would cook nicely in a crock pot too I think. I would layer it the same and cook on low for 6 hours. Meal in one dish
Preheat oven to 325°F.
In a 1 quart size casserole put the kraut on the bottom, then the potato slices, next the carrots, tomato & onions. Pour in the tomato juice.
Place the chop(s) on top.
Spread the mustard on the chop(s) and cover with the applesauce.
Cover tightly and bake in 325°F oven for 2 1/2 hours.
Enjoy I hope.