katew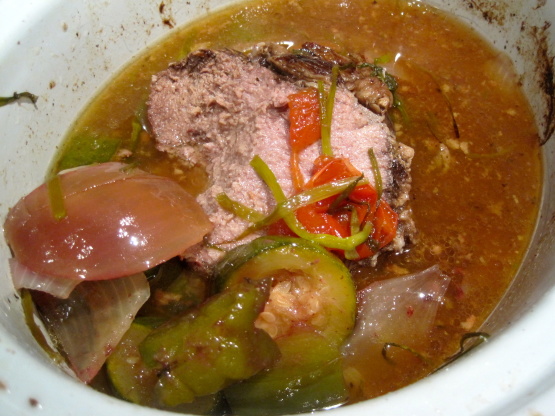 A tasty and tender meal you can fix in the crockpot and forget about. Great to serve with garlic mashed potatoes and a green salad. Found the original recipe in Taste of Homes and changed it to our tastes. Cooking time is for the lower temp on the crock-pot.

Top Review by katew
I have not cooked a lot of red meat in my slow cooker so this was a great learning curve for me. I thought it came together well after cooking on low for 7 hours. I enjoyed eating the vegies but also quite liked the meat even though I do not often eat red meat. It was not falling apart and this was what I was aiming for but this might be to do with error on my part.
Season beef on both sides with steak seasoning. In a large nonstick skillet coated with cooking spray, brown beef on both sides.
Place onion and green pepper in a 3 quart slow cooker. Top with beef. Combine the broth, Worcestershire sauce, thyme, garlic, pepper, salt and pepper flakes; pour over beef.
Cover and cook on high for 3-4 hours or on low 6-7 hours or until meat reaches desired doneness.
Remove beef and keep warm. Combine cornstarch and water until smooth; gradually stir into cooking juices. Add beef back to crock and cover and cook about 30 minutes longer or until slightly thickened.