Sheila's Savory Pot Roast and Vegetables With Gravy
diner524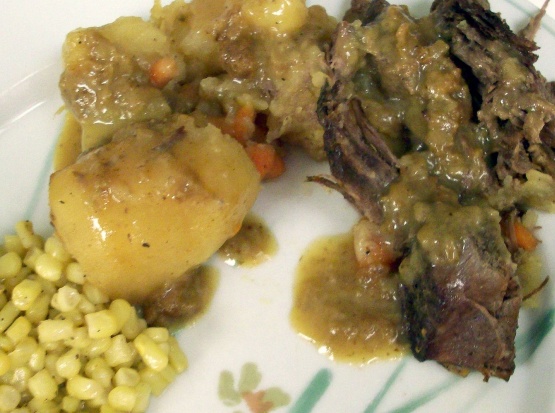 This can be cooked in the oven or on the rangetop. It is even more flavorful if made a day ahead, and the fat is easier to lift off the pan juices if it's cold. I usually reheat it while making some potato pancakes.
I made this for Sunday dinner last night and it was great. I did have to sub a few items, as I didn''t have parsnips, cloves or pearl onions. I brown the meat which I seasoned with garlic, salt and pepper, in about 2 tab. olive oil, on stove top. Then added the broth, and a large onion cut into wedges. Then covered it and placed it in a 350 degree oven and cooked about 1 1/2 hours, started later in the day then expected, so increased temp. I then added baby carrots and quartered potatoes, and cooked another hour 15 minutes. I then removed the meat and veggies, added a little water(mixed with some flour, salt and pepper) to the juices to make a gravy. Served with corn and it was an awesome dinner. Thanks Jackie for posting. Made for PRMR.
Rub the roast with 3 T. flour.
Heat oil in 5- to 6-quart ovenproof Dutch oven or pot over medium-high heat until rippling but not smoking. Add the meat and brown on all sides.
Add broth, onion with cloves, bay leaf, thyme, salt and pepper. Cover and reduce heat to low and simmer, or place in a preheated 300 degree oven. Cook 2 hours or until almost fork-tender.
Scatter vegetables around meat. Cover and cook 1-1/2 hours longer or until meat and vegetables are tender. Remove meat from pot.
Strain juices from vegetables into a 1-quart saucepan.
(Can be prepared ahead to this point. Return meat and vegetables to pot. Cover pot and saucepan and refrigerate up to 48 hours.).
About 1 hour before serving, heat oven to 350 degrees. Whisk remaining 1/4 cup flour with the water until smooth.
Skim and discard fat from reserved vegetable liquid in saucepan. Bring to a boil over medium heat, then whisk in flour mixture. Boil 2 to 3 minutes, whisking often until gravy has thickened.
Pour over meat and vegetables. Cover and cook or bake for 45 to 50 minutes until hot (meat thermometer inserted in thickest part should read 130 degrees).
Remove meat to serving platter. Remove vegetables with slotted spoon and arrange around meat. Pour gravy into gravy boat and serve alongside meat and vegetables.
Note: To peel onions, place in saucepan with water to cover. Bring to a boil, drain, chill in cold water, then slip off skins.