Ms B.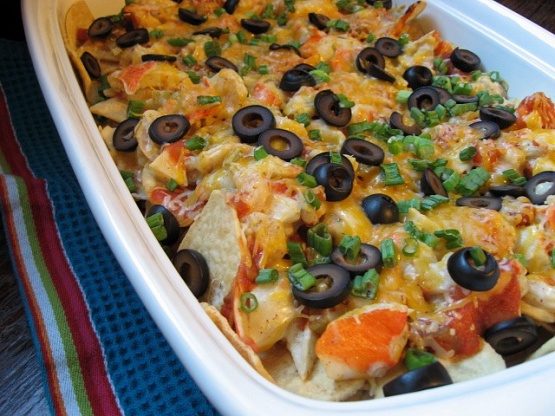 I got this out of the new "Family Circle" magazine. Nobody has posted such a recipe on Zaar from what I could find while searching. I think it sounds quite yummy and wanted to pass it along.

As a seafood and nacho lover, this combination is hard to beat! Easy to prepare,a colorful presentation and very tasty. The only thing I did wrong was to chop the crab and shrimp up too fine, but I won't make that mistake next time. Can't wait to make it again. Thanks for a keeper!
Mix crab, shrimp, sour cream, chilis, chili powder, cumin and salt.
Cover bottom and sides of a 13x9 dish with tortilla chips.
Cover chips with seafood mixture and top with salsa, cheese, olives and scallions.
Bake at 350 degrees for 16 minutes or until heated through and cheese is melted.
Serve hot.