Screamin' Cinnamon Rolls With Cream Cheese Frosting
Kookla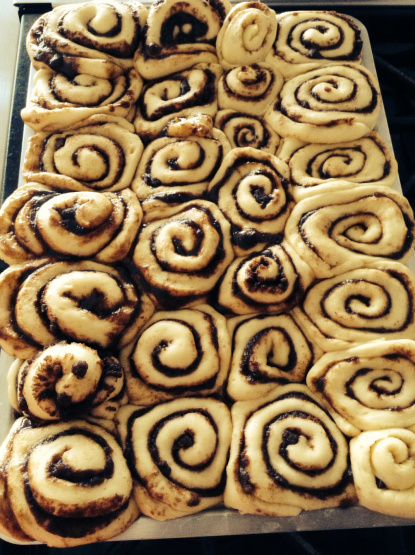 These got rave reviews on a recipe list. I've not prepared them, so the prep time is an estimation and doesn't count the time necessary for the dough to rise.

Top Review by Kookla
I have been looking for the perfect cinnamon roll recipe and I believe I have found it! My 16 yr old son has eaten all of my previous attempts and he tells me this ones a keeper and I have to agree. The dough makes a delicious roll and this recipe tastes like I am eating the original Cinnabon. I did however use dark brown sugar instead of regular brown sugar and 2 and a half TB of the cinnamon. Otherwise I followed the recipe perfectly. It is time consuming due to the dough rising 3 different times, so plan accordingly. I think they could be made the day before and covered with foil to reheat in the oven before adding the cream cheese frosting. It does make a large amount and I think 1 cup of butter brushed on the dough before sprinkling the brown sugar mixture on it is way too much. 1/2 c melted butter should be plenty. I used some of it to brush on bottom and sides of pan before placing the rolls in it to bake. I used an 11 x 17 pan, but it could have been bigger. I suppose you could do this in 2-9x13 pans easily with 12 in each pan. I cut my rolls too thin and had 26 rolls I squeezed into the pan and it was too crowded.<br/>Next time I will try making 1/2 the recipe in one 9x13 pan with 12 rolls in it.Thank you Bliss for sharing a wonderful recipe. I no longer need to search for the perfect cinnamon roll recipe. Because of you I have finally found it! Yay!
In small bowl combine water, yeast& sugar.
Stir until dissolved, set aside.
In large bowl, mix pudding with milk.
Add 1/2 C melted butter,egg& salt.
Mix well, then add yeast mixture& blend well.
Gradually add flour and knead until smooth, adding a little more flour if needed (this is a soft dough).
Place in a very large greased bowl.
Cover& let rise until double in size.
Punch down& cover and let rise again.
Roll dough out on a large floured surface to a rectangle, about 34x21" in size.
Brush the 1 C melted butter over dough.
Combine brown sugar& cinnamon and sprinkle over butter.
Roll dough up& cut into about 20 rolls (use dental floss to cut rolls easily).
Pat each roll as you place it into a large greased pan (this helps keep rolls in shape).
Let rolls rise in a warm place about 20 minutes.
Bake in a 350° oven for 20-30 minutes, or until done.
Beat cream cheese& butter until smooth, beat in vanilla and milk.
Add powdered sugar& beat until smooth.
Frost rolls while still very warm.