Glazed Cinnamon Rolls - Bread Machine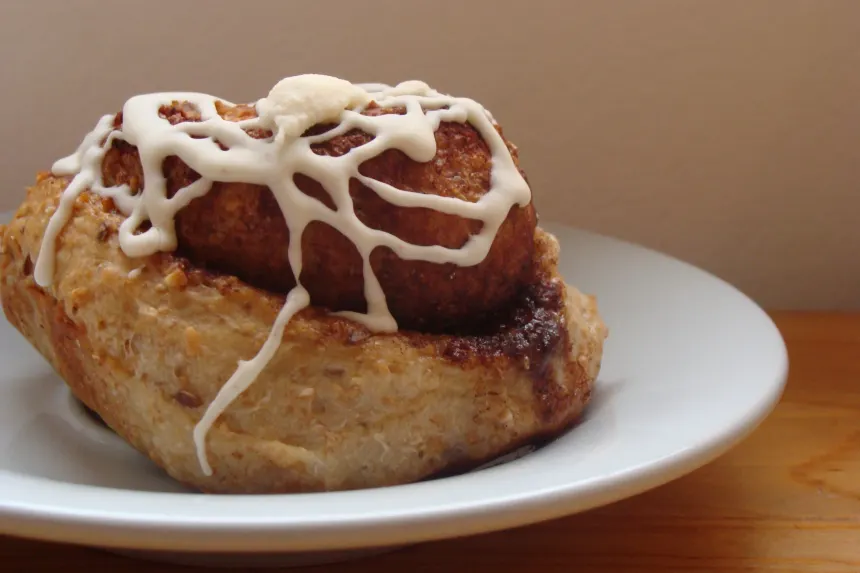 photo by Lieutenant Ducky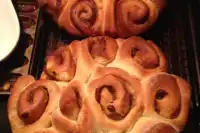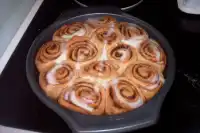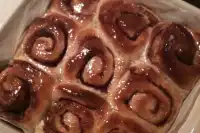 Ready In:

2hrs 50mins

Ingredients:

13
directions
Place water, 2 Tablespoons butter, bread flour, 1/4 cup white granulated sugar, salt and yeast in the bread machine and start on dough cycle.
Once dough is complete, roll out into a 9" square on a lightly floured surface.
Mix 1/3 cup sugar and 2 teaspoons ground cinnamon together (I mix it in a measuring cup).
Spread 2 Tablespoons softened margarine over the dough and sprinkle with the cinnamon mixture.
Roll up tightly into a log and pinch the edges to seal.
Cut into 1" slices and place in a greased 9"x9"x2" square pan (brownie pan).
Cover loosely with plastic wrap and let rise 1 hour or so until double, OR in refrigerator overnight if making for breakfast.
Preheat oven to 375°F and bake 20 minutes or until golden brown.
Mix powdered sugar, vanilla and milk to make glaze, drizzle over rolls and serve warm.
Questions & Replies

Got a question?
Share it with the community!
Reviews
I just made these and they're tasty. Mostly, I'm surprised by how PERFECT the directions are. Usually, you have to tweak or go by instinct with a recipe but this one is SPOT ON in terms of timing and quantities.<br/><br/>The only thing I didn't like was the frosting, WOW was it thick and powerfully sweet, but that's just a matter of taste, I suspect.<br/><br/>One note for rookie bakers: when the dough comes out of the bread machine, the gluten has seized from kneading. I couldn't figure out why the dough wouldn't roll out for me, it would just spring back into a ball. I looked it up and let it rest for 30-40minutes and I was able to roll it out just fine when I came back. FYI!

 

Besides making the best cinnamon rolls ever, I find that the dough is extremely versatile. I've used the same dough recipe to make coconut rolls (coconut filling: grated coconut, sugar and milk boiled down to make a thick filling), added chopped pineapple to it to make pina colada rolls. I've even made jalapeno cheese rolls with chopped jalapenos, red onions, red and yellow bell peppers and Sargento brand shredded 6-Cheeses (or something like that).<br/>I can't bake fast enough the way they're gobbled up by my big family! I even cut the dough into rectanges, and wrapped them around all-beef franks with ketchup and butter. Praises all around for these too!

 

I was wondering if I could add a little cinnamon to the dough... so I reasearched an found information regarding the result of adding it to a yeast dough: "QUESTION: I always like to add extra cinnamon to my yeasted Cinnamon Roll Recipe. Is there a limit ? ANSWER: YES! Cinnamon has a direct effect on the yeast activity and in large quantities it will stop fermentation completely. Keep high percentages of cinnamon out of the dough itself and in fillings where it can have only limited effect on the yeast activity. Use only 1/2 teaspoon of cinnamon per cup flour in a recipe. " Thought that might be helpful for some other people. These are GREAT and I am making them for the third time in 4 days! My kids love them!

 

This recipe turned out so delicious! This was my first attempt at making homemade cinnamon rolls, so I just followed the recipe as is (except for the icing). They were so soft, fluffy and melt in your mouth delicious! And I can't believe how big they turned out. Way better than canned rolls and I even thought they were better than Cinnabon. Thanks so much for sharing the recipe!

 
Tweaks
These were a big hit served at a family brunch... then my kids begged me to make them for their night time treat. I have tried Cinnamon Rolls two or three times before with marginal success. Now I have a good recipe to turn to. I love a good recipe that can just be thrown into the bread machine! Thanks for the recipe!<br/><br/>They remind me of Pillsbury Grands but are more tender. This morning I used 1/3 whole wheat flour. Then tonight I used a little more than half. They were both great. I think with a greater quantity of whole wheat flour, a little more yeast is needed for the best rising results. Next time I'll try 100% whole wheat.<br/><br/>My husband would like me to try one of the cream cheese frostings instead of this simple glaze... so I'll mix it up some time.<br/><br/>And a funny thing... I got mixed up on the recipe and didn't let it rise the extra hour after cutting them (they rise one hour in the bread machine)... they were still delicious!<br/><br/>Oh yes, and like another reviewer, I also use brown sugar instead of white sugar with the cinnamon... that just seems better and I'll stick with it because the results are FABULOUS!

 

I bought a bread machine because I'm not good with getting dough into "dough" and getting it to rise just right and getting ingredients to be certain temperatures so I was a little nervous as to how I would do with this dough. This was my first time ever making cinnamon rolls and they were PERFECT!!! I felt like such a great mom making these from scratch! lol I also used brown sugar instead of white, I used 2 TBL of milk in the glaze but next time I might use more, it was pretty sweet, actually next time I'm going to use a cream cheese glaze but I had none this time. The only thing I would suggest is leaving these in the oven for only 16 minutes, lucky I checked early or they would have been more brown then I liked. I also let these rise outside. PURE PERFECTION even for first timers like me!! =)

 

Excellent recipe, great tasting tender cinnamon rolls! My family went nuts over these! Thank you so much. I loved the ease of making them, oh another tip I recently was told, instead of flouring the board when needing, use oil because to much flour can cause a heavy roll. I did this and by far my best cinnamons rolls to date. I have a new favorite cinnamon roll recipe!