Bread Machine Cinnamon Buns
photo by frostingnfettuccine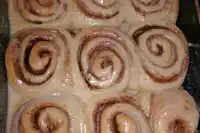 Ready In:

35mins

Ingredients:

14
directions
Put yeast in bread machine first on bottom, then flour, sugar and salt.
Then melt butter in microwave. Add beaten egg, milk and water.
Pour onto dry ingredients in bread machine on the dough setting.
When dough is done, put it onto a lightly floured surface.
Knead in enough flour to make it easy to handle.
If it is too elastic, cover and leave 10 minutes.
Use floured rolling pin to roll out dough on floured surface.
Roll out into rectangular shape to approx 1/4-inch thick.
Use filling and spread over entire surface of dough with spoon.
Roll up dough.
Cut into circle with a sharp knife about 1-inch thick; place these in a greased 9x13-inch pan.
Cover with a tea towel and leave in a warm place for approx 30 minutes, until double in size.
Bake in a 350° oven for about 25 minutes, light brown on top.
When done, make glaze and swirl over buns.
Questions & Replies

Reviews
I can not believe that I am the first one to try and rate these fabulous (what I would refer to as cinnamon rolls)we had a rainy dreary day today and so I decide to perk it up with a treat for the family. These rolls came out so big and fluffy and the filling reminded me of the cinnamon fried pies my mom would make when I was a kid. So comforting and amazing delicious. I will admit I did use another recipe for the icing as my family prefers a cream cheese base icing, but the winner is really in the roll it's self. Krust I wish I could give you more than 5 stars! Thanks for bringing back my childhood if only for a few hours!

 

These were great! The order of ingredients was opposite of my bread machine's instructions so I was skeptical but they came out wonderfully. The dough was very thin when the kneading started so I added about 1/4c to 1/2c of flour. When it came time to knead on the board, I hardly had to add any flour at all. The rolls tasted wonderful and I liked the filling. I used a recipe previously that called for a lot more butter and it all ran to the bottom of the pan while baking. These did not have that problem. I also liked the glaze. It reminded me of the glaze my mother used when I was young. I will definately continue to use this recipe!

 

Oh my goodness Krusty...these are probably the best cinnamon buns that have come out of my bread machine yet, The dough is just wonderful..... the finished result, was a perfect texture, and very light cinnamon bun... it just melts in your mouth...not like some of the dough recipes that I have tryed in the past, they have produced a very heavy textured dough.... this one is even better than the sweet roll dough recipe that was featured in the recipe book that came with the bread machine. I have already entered this recipe in my 10 star bread machine recipes folder, and will definetely be making this again, (probably tonight, cause I don't think these will last very long!)...5 stars all the way.. I will be using this dough recipe for many other uses...a keeper for sure...thanks :-) :-)

 

I made three batches of these this past weekend for a volleyball tournament hospitality room for coaches and officials. Before the end of the tournament, they were all gone! Several coaches complimented me and several moms who worked that day asked for the recipe. I used a different recipe last year and these are by far better than that one. This will be my staple cinnamon roll recipe from now on. I loved how easy it was to make these too. The bread machine does all the work. I know how long it takes for the dough to make, so I popped in the ingredients, did whatever I needed to do, and came back and finished. I actually made two batches a couple days ahead knowing I had this tournament, so I froze them after filling them. I set them out for an hour or so and then put them inside the oven with pans of boiling water underneath and they rose beautifully. I couldn't tell the difference between the fresh or frozen batch when done. I used this glaze recipe on half and a cream cheese icing for the other half. Perfect! Thanks!

 
Tweaks
These were sooooo yummy and perfect! I reduced the yeast to 1 1/2 tsp for high altitude and reversed the order of ingredients so I could use the delay timer on my machine. I also froze half of the roll for later, so I'll see how it does when thawed. Turned out great!! Update: The thawed cinnamon rolls did not rise as expected and weren't quite as fluffy as the fresh ones. I probably won't do that again.