Scrambled Eggs With Mushrooms, Onions and Parmesan Cheese
Bergy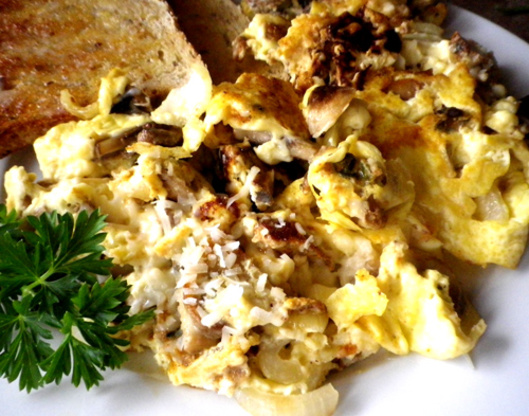 I'm not sure if I came up with this on my own or if it's a common recipe but I had a craving for eggs with cheese and mushrooms last night, when I started to make it and get the ingredients, I discovered to my dismay that we were totally out of cheese which is quite unusal in my house, anyway, I sauted some sliced fresh muchrooms and chopped onions in butter, added some parmesan cheese, let it saute for about 15 minutes, then scrambled eggs and added it to the other ingredients....was pleasantly surprised, it came out very tasty and I will be making it again, DH an DS loved it.
Heat saucepan, Add butter till it's melted.
Add mushrooms and onions, stir well.
Add Parmesan cheese.
Saute on low heat for about 15 minutes.
In a separate bowl, scramble egg and milk.
Add egg and milk mixture to other ingredients.
Scramble as you would if you were making plain scrambled eggs.
Cood over medium heat, stirring constantly --.
When eggs are not wet anymore, serve with toast or bagels -- .