Scrambled Eggs With Dill and Smoked Salmon
ImPat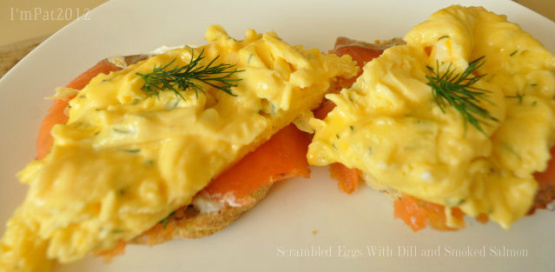 This is one of my favorite breakfast recipes to make on a lazy Sunday morning, although it comes together very quickly. I recently discovered Thomas' Bagel Thins, which work perfectly for this recipe. They are nice and thin, but any type bread of your preference would work too.

Top Review by ImPat
What a delicious breakfast this made. I scaled back to 1.5 serves and used 2 medium eggs and served on wholemeal English muffin halves as I could not purchase bagels. Wasn't till I had finished eating I realized I forgot to put the onion on and I didn't use the optional capers from choice. Thank you JackieOhNo! for a wonderfully delicious breakfast.
Toast bagels medium-well and keep warm.
In bowl, beat eggs well, then add dill, salt and pepper and beat some more. Add milk and cream and beat again until frothy.
Melt butter in skillet and add egg mixture. Scramble until soft.
To assemble, divide cream cheese evenly among bagel slices and spread. Divide salmon slices evenly and place atop cream cheese. Sprinkle chopped red onion over salmon, then mound cooked eggs on top. Garnish each with capers and dill sprigs, if desired.