diner524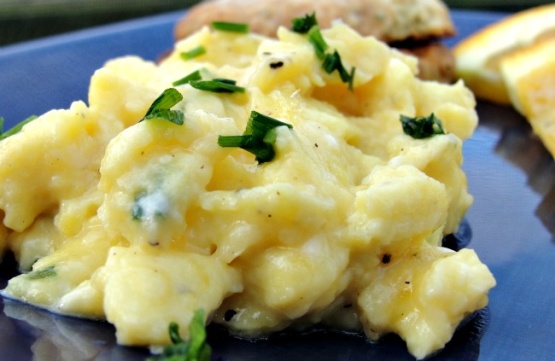 Alton Brown's technique for delicate, soft, creamy eggs. Does this man have this down to a science? You bet he does.
Wow!!! These are some tasty eggs!!! I made this as written, but making 1/3 of the recipe for just myself. The only change I made was to add some of my herb of choice (chives) to the eggs and then adding some on top when they were cooked. I agree with most of the other reviewers, this takes quite a bit of time for just scrambled eggs and not something I would make on a weekly basis. This is a recipe I would make for company or on special occasions, really loved the flavor and texture!! Thanks for sharing a very unique way to make scrambled eggs. Made for "I Recommend Tag Game".
Heat 1-2 inches water in the bottom of a heavy saucepan or double boiler until just simmering- not boiling.
Place eggs, cream, and salt in a small mixing bowl, and with a fork, whisk until it is fairly homogenized (mass of white will start to break up), but take it easy- don't try to make whipped cream or meringue here.
Place a stainless mixing bowl or top of the double boiler over the water and add the butter to the pan, swirling it as it melts.
When the butter is completely melted, add the eggs to the pan.
You should not see instant action around the edges of the egg- if you do, your heat is way too high.
Don't jump right in with your spoon and stir the things to death.
As they start to cook, you will see curds form from the bottom.
Using a spoon or spatula, gently lift these curds to the top to allow the uncooked egg to flow beneath.
As it cooks more, it will be more a matter of lifting and folding, than stirring them briskly.
When the eggs are almost set (still a little wet looking), remove them from the pan, as they will cook a little more on their own.
If you desire smaller curds, you can chop the egg a bit and stir lightly.
Garnish with fresh herbs, such as chives, chervil, parsley or tarragon before serving.