Scandinavian Spinach Pancakes (Pinaattiohukaiset)
loof751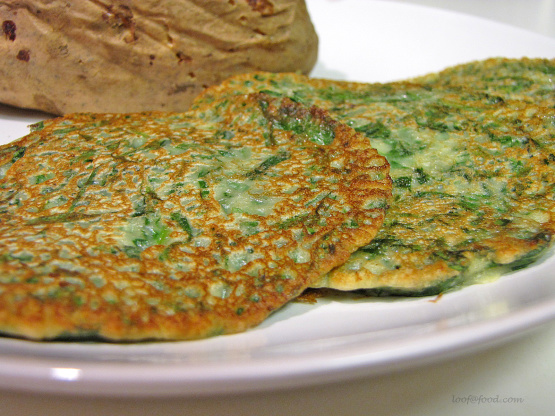 Source: The Good Cook Vegetables where it's credited to Foods of the World/The Cooking of Scandinavia. Posted for ZWT6. I haven't tried this yet so times are estimates.

Very tasty pancakes! I liked that there was so much spinach and the batter held it all together well without taking over. These were good as is; I think you could take them to the savory side by adding some parmesan or crumbled bacon. Thanks for sharing the recipe!
Blanch spinach in boiling water, drain and squeeze completely dry.
Finely chop spinach.
In large mixing bowl, combine the milk, salt, nutmeg and flour and then stir in the melted butter (or combine these ingredients in electric blender at medium speed).
In another bowl, combine eggs and sugar and stir into batter.
Gradually add chopped spinach.
Coat bottom of heaty 10 to 12 inch skillet with 1 tsp soft butter using a pastry brush or paper towel.
Set skillet over medium heat until pan is very hot.
For each pancake, drop 2 tbsp of the batter onto the skillet and, with a spoon or spatula, spread it out evenly to form a 3-inch disk.
Cook pancakes, 3 or 4 at a time, for 2 to 3 minutes on each side, or until they have browned lightly.
Keep them hot on a warmed platter, covered loosely with aluminum foil.
Add more butter to skillet as it becomes necessary while cooking remaining pancakes.
Serve with lingonberries if desired.