IngridH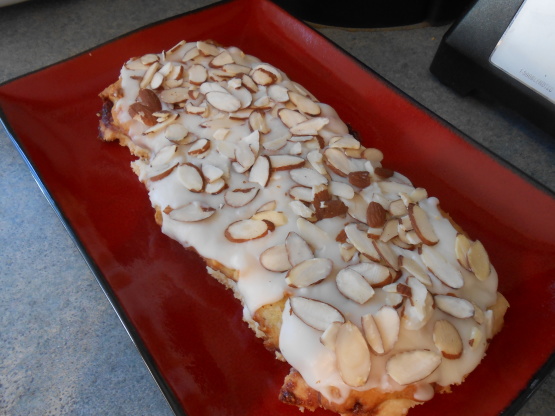 The Scandinavians love the taste of almond. This easy coffee cake incorporates it and is a nice, easy pastry to enjoy with that first cup of coffee (or the one afterwards ;-) ).

This was really yummy. And very authentic to the flavors enjoyed by my Swedish family. We would love to have this with our morning coffee. We had a couple of issues making it, though which is why we only gave it 4 stars. Making it again, I would double the base layer, and not soften the butter. We had to freeze the pastry for 1/2 an hour to be solid enough to spread the jam on. We used raspberry, which was wonderful! The almond layer made about twice as much as we needed for the size of the base layer. The glaze was wonderful- you could easily taste the almond, and it finished the other layers beautifully. I really wouldn't try to serve 16 with this; 8 might be a better estimate, as long as the pieces are very small. Great recipe, as long as you are willing to tweak it a bit. Made for ZWT9
Pastry

1 1⁄2 cups all-purpose flour
3⁄4 cup butter

3

tablespoons water
3⁄4 cup lingonberry preserves (or your favourite)

Topping

1 1⁄4 cups water
1⁄2 cup butter

1

cup all-purpose flour
1⁄2 cup ground almond meal (just grind up some blanched almonds in your processor to a coarse crumb)
1⁄4 cup sugar

1

teaspoon almond extract
1⁄4 teaspoon salt

3

eggs

Glaze

1

cup powdered sugar

1

tablespoon butter, softened
1⁄2 teaspoon almond extract

1

tablespoon milk or 1 tablespoon cream
1⁄3 cup sliced almonds, toasted
Heat oven to 350 degrees F. Place 1 1/2 cups flour in large bowl; cut in 3/4 cup butter until mixture resembles coarse crumbs. Stir in 3 tablespoons water with fork until flour mixture is just moistened. Press dough into a ball. Pat dough into 10-inch circle onto ungreased baking sheet. Spread preserves to within 1/2 inch of edge. Set aside.
Combine 1 1/4 cups water and 1/2 cup butter in 2-quart saucepan. Cook over medium heat until mixture comes to a boil and butter is melted (careful milk does not overflow). Remove from heat; stir in 1 cup flour, almond meal, sugar and 1 teaspoon almond extract. Reduce heat to low. Cook, stirring constantly, until mixture forms a ball (about 1 minute). Remove from heat. Add eggs, one at a time, beating with wire whisk or wooden spoon until smooth and glossy.
Spread egg mixture over pastry and preserves. Bake for 50 to 55 minutes or until surface is crisp and golden. Cool completely (topping rises during baking and shrinks during cooling, forming custard-like layer).
Stir powdered sugar, 2 tablespoons butter and 1/2 teaspoon almond extract in small bowl until well mixed. Add enough milk or cream for desired glazing consistency. Drizzle glaze over puff; sprinkle with sliced, toasted almonds.