DeniseBC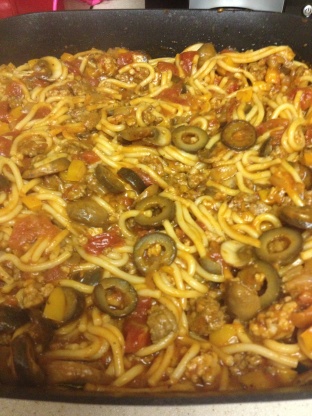 I made this without the meat, and it was still terrific. I love how fast it comes together and the noodles cook right in the pan. I used fresh garden tomatoes and added a hot pepper for extra flavor. Delicious! Recipe courtesy of Betty Crocker Best-Loved Recipes and Marie McKell of Ukiah, California.
My mom's old Betty Crocker New Picture Cookbook (circa 1961) had this recipe and she made it often when we were growing up. I hadn't had it in ages and while I have been visiting her she thought it sounded good. I accidentally put in 3/4 lb. beef and I used about 4oz fresh mushrooms, but the rest was by the recipe. In the future I would find a way to give this more spice (maybe seasoned tomatoes or Italian sausage instead of just ground pork), but my mom is really sensitive to spice during her chemo, so this worked out well. Thanks for posting AmyZoe! **update** tonight I made this with sweet Italian sausage and seasoned diced tomatoes--really yummy!
Brown beef and pork in large skillet over medium heat.
Add onion and green pepper and cook 5 minutes.
Add olives, mushrooms, and tomato sauce and mix lightly.
Stir mixture of tomatoes, water, salt, pepper, worcestershire sauce, and tabasco into meat mixture.
Add uncooked spaghetti and bring to boil.
Cover tightly and reduce heat to low. Simmer about 40 minutes, stirring occasionally.
Uncover and simmer 15 minutes longer.