Savory Dry Rub Smoked Ribs
p00gJr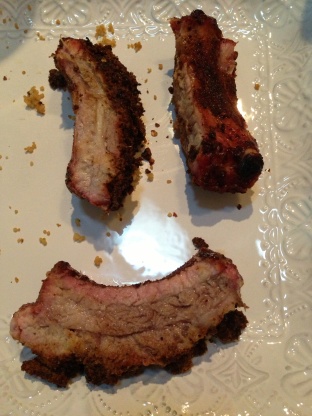 I love ribs, but I don't always want the sweetness of BBQ sauce, so my hubby and I came up with this phenomenal dry rub!

Wow! These are some tasty spicy ribs! I love the dry rub method. Then, Uncle Ronnie and his crowd can add Stubbs BBQ sauce at the table, and the rest of us can enjoy a delicious smoky rib! Thanks to you and your hubby.... Judging from these ribs you all must be one spicy couple!!
In a bowl, combine ALL spices, except the sugar and the pepper flakes, and mix together thoroughly.
Add the mustard, and mix the spices into the mustard, until it's almost a paste.
Take your rack of ribs, and sprinkle the bone side with a little cajun seasoning.
On the meat side of your ribs, spread the mustard/spices, almost like you were icing a cake. Cover entire meat side with your mustard/spice mixture.
After the ribs are covered, sprinkle your pepper flakes on top, to add a little spice. Finally, sprinkle your sugar on top, to get that little twinge of sweetness!
Smoke on a charcoal BBQ, for about an 1 hour and 30 minutes, bone side down the entire time. Adjust cooking time depending on how big your rack of ribs is, and how hot your fire is. The key to these ribs being perfect is low and slow.