Sauteed Leeks and Carrots
Bergy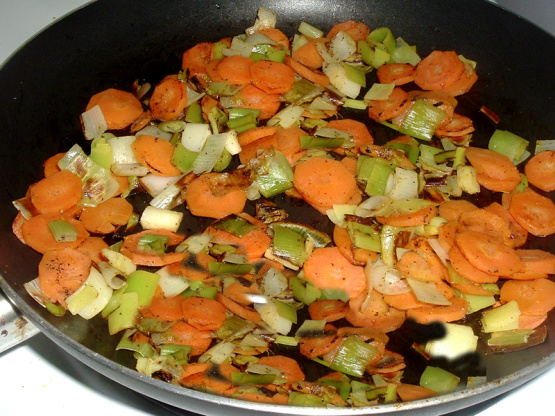 From The Vegetarian 5-Ingredient Gourmet, by Nava Atlas. Leeks and carrots both have a natural sweetness that mingles nicely. This is a mild and pleasant side dish, good with pasta, potatoes, and soy dishes. We loved this dish.

Wonderful side dish! I love carrots, and love this new way to prepare them. I didn't use the nutmeg (because I forgot) but will next time. Also, I added a sprinkle of garlic powder and small amount of agave at the end for a little sweetness. A definite keeper- thanks Dancer!
Heat the oil and wine in a wide skillet.
Add the leeks and carrots, cover, and cook over medium-low heat, for about 8 to 10 minutes, or until tender-crisp.
Uncover and sauté, stirring frequently, until the leeks and carrots begin to turn golden.
Stir in the nutmeg, if desired, season with salt and pepper, and serve.