Sausage Crouton Casserole - OAMC
Rayndrop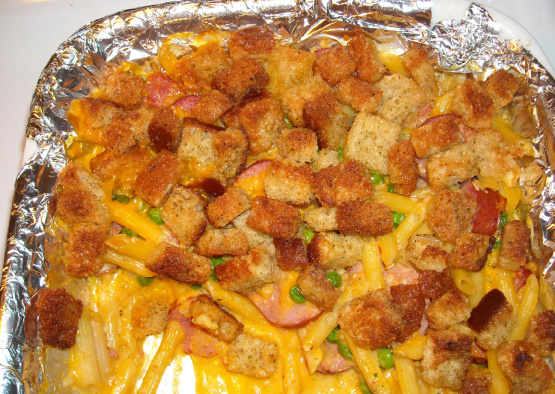 Plan ahead and make this easy and satisfying meal for later! These are single serving casseroles to pull out of the freezer for later. You can also combine them for one large casserole.

DH had seconds!! That's a first! What a compliment. Great comfort food...very easy..just dump & cook. Croutons add terrific flavor & add crispiness (I put them over the entire dish, not just the edges). Chicken would be a good sub. for sausage. You could also add frozen carrots or mixed veggie cubes (like the little ones in pot pies). I didn't have sage on hand and used Ragu Cheese sauce instead of Cheese soup. I put in more pasta since the proportions seemed "off". All the flavors mix nicely together. This is a keeper, no doubt!
Combine the flour and milk together. Add sausage, soup, peas, macaroni, onion and sage. Turn into four 10 oz casseroles. Cover, seal, label and freeze.
Bake frozen casserole, uncovered in 400º oven 45 minutes.
For each casserole, melt 1 tsp butter and toss with 1/4 cup croutons. Sprinkle croutons around casserole edge. Bake in 350º oven for 5 minutes more (or top unfrozen casserole with buttered croutons, bake in 350º oven for 30 minutes).