Salpicon (Spicy Mexican Beef Salad)

This hearty recipe is from The Border Cookbook by Cheryl and Bill Jamison. This is one of those "flexible" recipes. It serves a lot as a meal, and more as an appetizer. You can adjust the heat by reducing or eliminating the chipotles, or by substituting a milder chile. You can serve it warm, or cold. It's a great party recipe because you can partially prepare a few days before the event. You can prepare the meat in the crockpot, oven, BBQ, or pressure cooker, if you prefer. I've listed the stove top version.
Brisket

3 1⁄2-4 lbs fully trimmed beef brisket, section (flat cut)
1 large onion, chopped
8 cups beef stock
3 cloves garlic, minced
2 canned chipotle chiles
2 teaspoons salt
1 teaspoon black peppercorns

Salpicon Dressing

2 tablespoons reserved beef broth, from boiled brisket
1⁄3 cup chipotle chile in adobo
6 tablespoons extra virgin olive oil
4 tablespoons fresh lime juice
2 tablespoons white vinegar
1 tablespoon ketchup
1 tablespoon minced onion
1 clove garlic, minced

Salpicon Salad

4 small roma tomatoes, diced
2 ripe avocados, diced
1 medium red onion, diced
6 ounces monterey jack cheese, in small cubes
1⁄2 cup chopped fresh cilantro
radish, cut in roses for garnish (optional)
Directions
Prepare brisket: In a Dutch oven or a small stockpot, combine meat with onion, stock, bay leaves, garlic, chipotles, salt and peppercorns.
Bring mixture to a boil over high heat, skimming off any foam.
Reduce heat to low, cover and simmer 3 1/2 to 4 hours or until the meat is falling-apart tender.
Let cool 30 minutes in cooking liquid.
Reserve 2 tablespoons cooking liquid for salad dressing and save remainder, refrigerated, for a Southweswtern soup or stew.
Pull meat apart into shreds.
(The dish can be made ahead to this point and refrigerated 1 or 2 days. Before proceeding, warm foil-wrapped meat in oven.) To make dressing: In a blender or food processor, combine reserved brisket liquid, chipotles, olive oil, lime juice, vinegar, ketchup, onion, garlic, salt and pepper and purée.
To complete salad: In a bowl, mix brisket with about 3/4 of the dressing.
Transfer brisket to a serving platter or bowl and toss it lightly with tomatoes, avocados, onion, cheese and cilantro.
Drizzle additional dressing over top, enough to make the mixture moist.
Garnish with radish roses if desired.
Serve warm with fresh hot tortillas, or chilled with tortilla chips for dipping.
Most Helpful
UPDATED 1-08: Made this using pork shoulder and it was very moist and loved by everyone. We made pork burritos and the leftover pork was made into stew. Also, I just used water instead of 8 cups of beef stock. Original comments: Loved this recipe--very spicy and restaurant quality! Word of advice for the salad - if you use shredded cheese instead of small cubes, make sure it doesn't have any "powdered cellulose to prevent caking" My salad was slightly powdery tasting but still yummy - no fault of the recipe! I also used the crockpot method.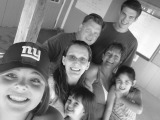 Pretty killer-- update-- I just ran into an an acquaintance who tried this recipe at a party I threw a few weeks back-- he's a caterer, and he, in turn, is serving this dish at his brother's wedding....just wondering if anyone else thinks the beef stock for simmering the brisket is gratuitous?
Made this for my family who absolutely loved it! Since PanNan's notes said it could be served warm or cold I doubled the Salpicon Dressing recipe, poured it over the shredded meat and simmered it for about 20 more minutes. Then I let everyone top it with their desired toppings from the Salpicon Salad list and also had tortillas on the side so we could roll the meat into a burrito and then top it with whatever they wanted. This recipe is now going to be a regular part of my meal planning, as it is FABULOUS!