Adam R.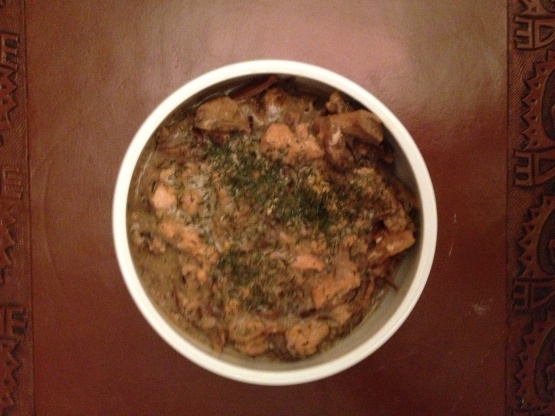 a quick but impressive first course that is company worthy.

A quick, elegant dish with perfectly cooked salmon. The first time I made it as directed, except omitted dill (don't care for it), and added 1/4 cup water with the mushrooms to help them cook down. DH and I agreed it was the tastiest, easiest fish I've ever made! The second time, the grocery store was out of shiitake mushrooms, so I subbed portabellos. Flavor was acceptable, but they turned the sauce an unappetizing gray. So, stick to the shiitakes!
cut the salmon into 3/4" pieces, set aside.
in a large saucepan melt butter.
add mushrooms and leeks, cook until tender 5-10 minutes.
stir in chicken stock, dill, pepper to taste, bring to a boil.
combine half& half with cornstarch, stir into mushroom mixture.
lower heat to medium, cook until thickened and bubbly.
add salmon, cook 4-5 minutes until salmon flakes easily.
add dry sherry.
garnish with extra dill, if desired.