V.A.718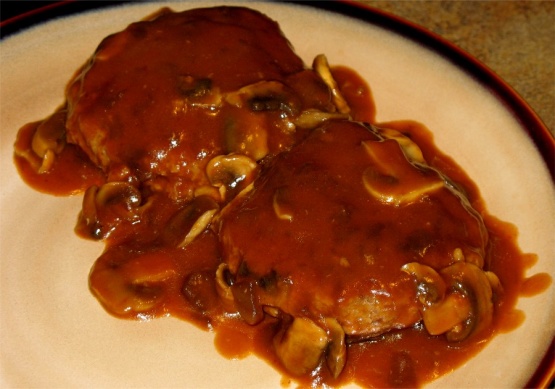 This delicious recipe, from Taste of Home, has become one of my freezer staples.

Thank you for sharing this recipe! It was easy and had wonderful flavor. I had forgotten to purchase egg noodles at the grocery store and didn't have enough time to make my own pasta, so i served the steak and gravy over mashed potatoes instead. Very tasty!
In a large bowl, beat egg.
Stir in 1/3 cup of soup, bread crumbs salt and pepper.
Add beef; mix gently.
Shape into six oval patties.
Brown in a skillet over medium heat for 3-4 minutes on each side.
Remove and set aside; discard drippings.
In the skillet, combine flour and water until smooth; add the ketchup, Worcestershire sauce, mustard and remaining soup; bring to a boil.
Cook and stir for 2 minutes.
Return patties to skillet.
Cover and simmer for 15 minutes or until meat is no longer pink.
Serve patties and gravy over noodles.
Garnish with parsley if desired.
Serves 6.
To freeze, freeze the meat patties in the gravy.
Don't freeze with the noodles, (cook the noodles fresh when serving).
Use a plastic zipper freezer bag and squeeze out all the excess air before sealing.
Or freeze in plastic containers, filled to within 1/2 inch of the top.
To serve, defrost then reheat in the microwave until hot.