Ricotta -Spinach Casserole
luvcookn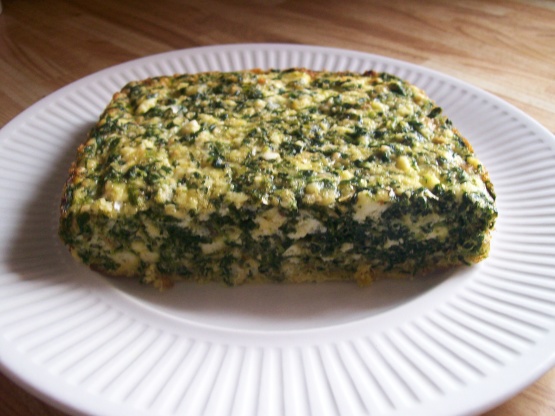 One way to get them to eat spinach!

This surpassed my expectations. I didn't think a spinach dish could be this good! We don't have 10 ounce packs of frozen spinach but I used a 250 gram (or 8.8 ounce) pack with great results. To reduce the fat I removed 3 of the egg yolks from the recipe, using 3 whites and 3 whole eggs. I don't feel this hurt the flavour of the recipe at all. Omitted the mustard as I didn't have any. Also, silly me forgot to grease the baking dish so it did stick a bit around the edges, so don't forget this step like I did! Great recipe which everyone loved, thanks Bergy.
Beat all the ingredients (except spinach) together and mix until well blended Stir in the spinach.
Heat oven to 350 degrees F.
Grease a 1 1/2 quart casserole dish.
Pour in the spinach mixture.
Bake apprx 35 minutes or until a knife inserted in the middle comes out clean.