Rice With Chayote (Fritanga)
PanNan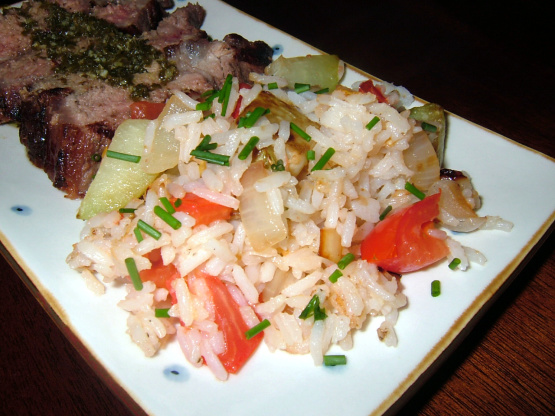 Chayote is a relative of squashes and has a gentle flavor. This is a classic dish in Guatemala.

So I have seen chayote in the grocery stores for a while now, and have wondered how to cook it, what it tastes like, etc. etc. etc. I was so excited when I saw this recipe, because I could finally begin to answer those questions! The chayote is very mild in flavor, and the whole dish was a nice accompaniment to Recipe #112931. This dish is extremely easy to make, and will be made again at this house! :) Thank you for posting, made for ZWT4.
Heat 2 Tablespoons vegetable oil in 12 inch skillet until hot. Cook and stir chayote over medium heat until crisp-tender, about 5 minutes; remove from heat.
Cook and stir onion and garlic in 1 tablespoon oil until onion is tender, about 5 minutes. Stir in rice, cook and stir until hot, about 8 minutes. Stir in chayote, tomato, salt and pepper. Cook and stir until tomato is hot, 3 to 5 minutes. Sprinkle with chives.