Annacia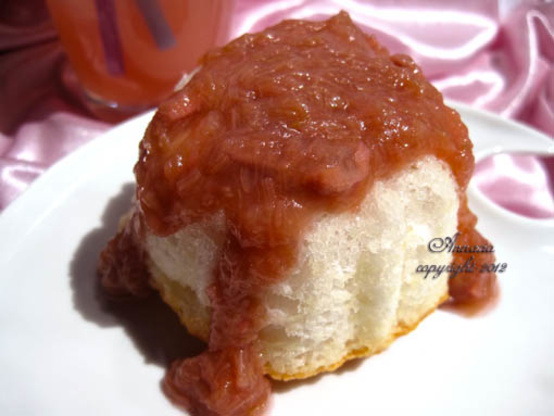 This is good for pouring over vanilla ice-cream. And the ginger gives an added benefit of being healthy as it reduces inflamation. Good for someone who has arthritis.

Wonderful. What a grand summer treat, it's refreshing, sweet/tart sauce that would be excellent on any number of things including toast. It was well enjoyed served on small angel food bundt's. The sugar was replaced with Splenda and it worked fine. I do have a healthy rhubarb patch and a fair amount of it will be going into making sure that this recipe is on hand for the summer.
Mix the following in a pot: 4 cups of washed, cut up (1" length) rhubarb, 1 1/2 cups sugar, 1 thumb grated fresh ginger and 1/2 cup water.
Heat over medium heat until the mixture starts to boil. Turn the heat to medium-low and simmer until the rhubarb disintegrates, and most of the liquid has evaporated. Adjust for sugar and/or ginger.
When mixture is a good sauce-like consistency, pour off into sterilized half pint jars and seal.