Rita1652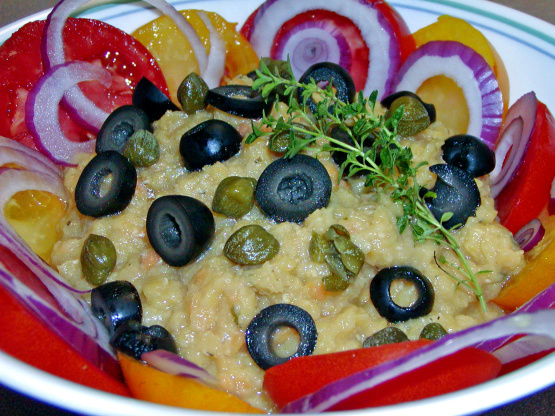 This is a wonderful Mediterranean starter or side dish.

Great recipe! I used dried thyme, too, and omitted the capers but added some lemon zest which indeed is a lovely addition. Thanks for posting!
Made for I've Saved All These Recipes / Diabetes Forum
Bring water, lentils and thyme to boil.
Reduce heat to low and cook for 10-15 minutes until lentils are soft and water is absorbed (for cooking time: refer also to package directions).
Remove Thyme Sprigs and mash Lentils.
Add salt, lemon juice, olive oil, garlic and pepper to taste. Mix well.
Serve warm or cold. Decorate with black olives, capers, cherry tomatoes and onion rings.
NOTE: Mirj suggested to add some lemon zest to the lentil puree. Thank you Mirj, I think this is a great idea to support a fresh note.