Really Easy Strawberry Jam
Derf2440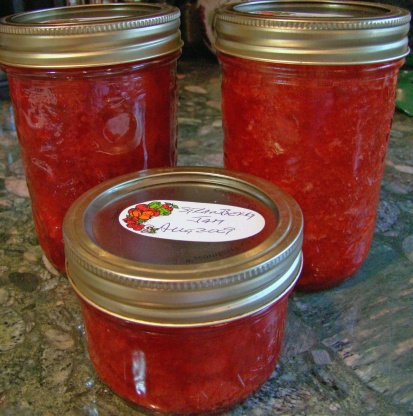 I got this from one of my Australian Womens Weekly recipe books.

I made this last week and opened a jar this morning for breakfast. It turned out beautiful. It tastes delicious and it gelled up just as the recipe said. After the jar had sealed and cooled, I placed it in the refrigerator which must have helped gel a little more. My family really loved this jam. This recipe is going into my Keeper File. Thanks for sharing such a wonderful recipe.
Combine strawberries and sugar in a medium heavy based pan. allow to stand for 10 minutes
Add lemon juice.
Stir gently over low to medium heat until all the sugar dissolves.
Bring slowly to the boil, reduce heat and simmer on low to medium heat for 35 minutes or until jam gels when tested.
Remove jam from heat and allow bubbles to subside.
Set aside for 2 minutes then ladle hot mixture into sterilized jars. seal immediately.
Store in cool, dark place. Refrigerate after opening.