Raspberry Streusel Muffins
WiGal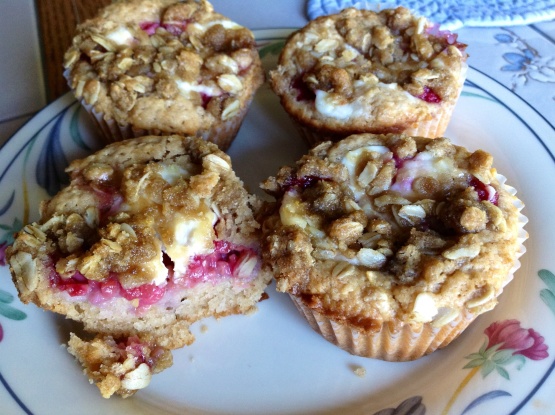 This is my all time favorite muffin recipe which I adapted to mimic the Ollieberry and Cream Muffins available at Linn's Resturant in Cambria, CA. You can use any type of berry, fresh or frozen. For the freshest possible muffins, I usually mix the dry ingredients together the night before and finish completing the recipe in the morning when I get up. The muffins do stay moist and tender, however, if you choose to bake them in advance. For a streusel coffee cake, double the recipe and bake it in a 9" by 13" pan until the center pops back when poked.

Top Review by P48422
Wonderful!!! Really wonderful. I made a couple of modifications, but nothing major. First, I spread the batter into an 8" square pan. Pressed the raspberries on top, then spread the sour cream over (not sure why you say to leave out the sourcream if you make a coffee-cake, Gracie, but you should keep it!). I toasted a mixture of pecans and almonds for the nuts. Everything else the same, spread the topping over, baked. It had to bake for about 10 minutes longer than the time specified. AWESOME!!! The sour cream really goes well with the raspberries - I really had my doubts. Usually in a recipe like this you mix sour cream and some powdered sugar, so I was a bit sceptical, but this was FANTASTIC! Husband loved it, too! Perfect weekend treat. Thanks so much!
Batter: In a large mixing bowl, combine flour, sugar, brown sugar, baking powder, salt and cinnamon.
Add egg and milk and continue beating just until all ingredients are blended.
Mix in melted butter, and continue beating again just until butter is completely incorporated.
Divide batter between 12 muffin cups.
Poke 3 to 5 berries into the center of each muffin and top each muffin with 1 scant teaspoon of sour cream.
Streusel Topping: In a small bowl, combine pecans, brown sugar, flour, cinnamon, and lemon peel.
Add melted butter and stir together until all ingredients are combined.
Divide the topping between the 12 muffins, placing it on top of the sour cream.
Bake muffins in a 350 degree oven for approximately 20 to 25 minutes.
Remove muffins from oven, and allow to cool for approximately 10 to 15 minutes.
Glaze: In a small bowl, combine powdered sugar and lemon juice, stirring until sugar is dissolved.
Drizzle glaze on top of cooled muffins.
Note: Recipe may be doubled and baked in a 9" by 13" pan for a streusel coffee cake.
If making a coffee cake, omit the sour cream.