VickyJ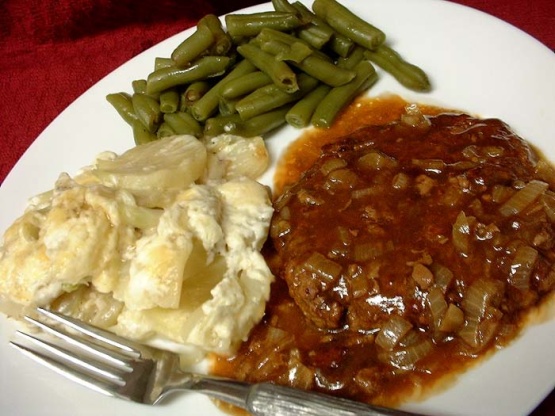 The recipe I cut out from the Miami newspaper (many years ago) calls this "German Quick Steaks"--not too sure where the "German" part comes from. Makes cube steaks tender and easy. Serve with mashed potatoes or egg noodles.

I made this last week and it was yummy! We did not have the package of gravy so I made it homemade with some flour, onion powder, garlic, and salt, bullion. It came out wonderful and is a great inexpensive family meal to make! Will make again!
2 -4

beef cube steaks

1

tablespoon butter

1

small onion, chopped

1

(1 ounce) package brown gravy mix (use 2 if you like lots of gravy)

1

tablespoon white vinegar

1

tablespoon brown sugar
Chop onion.
Melt butter in a heavy skillet over medium heat.
Add the steaks and onions, browning steaks on both sides.
While steaks are browning, mix gravy mix according to to package directions.
Add vinegar and brown sugar to gravy.
Pour gravy over steaks and lower heat. Cover and simmer 20 to 30 minutes until meat is tender. Check periodically to make sure liquid does not evaporate. Add water as necessary as the gravy cooks down and get very thick. I have simmered for up to an hour with good results. Just keep an eye on the gravy--don't want it all to evaporate.