KateL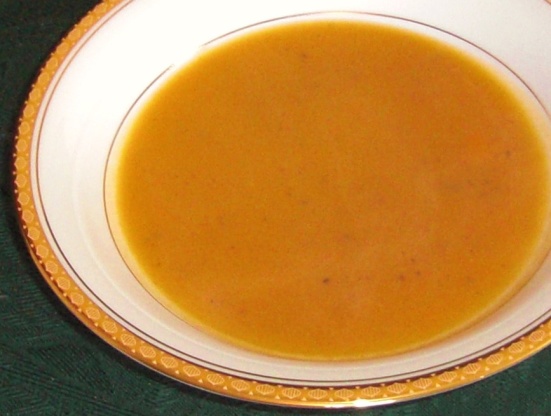 Warm and tasty soup for Halloween or any time one of my favourites

Top Review by KateL
3 Stars, due to missing directions, otherwise this was delightful, plenty of taste without being very spicy, so will share with MIL. Used my 5-quart Dutch oven, so my immersion blender did an effective job of pureeing the vegetable chunks at the end. In the ingredients listing, it would be helpful to note on the carrots, leek and potatoes how they should be prepared before introducing to the pot. The directions do not say when to add the potatoes. To prevent browning, I peeled my potatoes and soaked them in water while I diced in a large dice, and returned the diced potatoes to the water until time to add to the pot. As I strained the diced potatoes, I reserved the potato water for part of my 2 liters of water. (Please correct spelling of "carrots" in Step 1 while you make other corrections.) Following your method in your Kickass Vegan Chili, I added my diced potatoes after the leeks and carrots had stir-fried for 5 minutes, and stir-fried for another 5 minutes before adding the pumpkin. It took my soup about 30 minutes to come to a boil from which I reduced to a simmer and began timing 30 minutes, so I would allow 1 1/4 hours for total cooking time. I loved this soup. Please make the directions more user-friendly and let me know so I can update my review. Made for Zaar Cookbook Tag.
Fry the onions in the olive oil for five minutes, then add the leeks and carrot, and potatoes and fry for further 5 minutes. Add the garlic powder, herbs, stock cubes and season with salt and pepper.
Add the pumpkin and water; stir well and simmer for 30 minutes until the carrots are soft.
Blend or leave chunky and serve with alrpo soya cream and chunky bread.