Karen..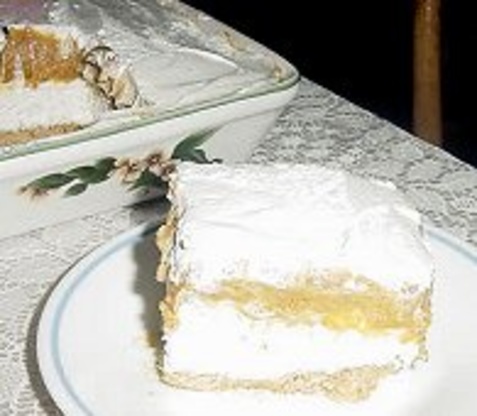 Someone in my daughter's college speech class made this for their demonstration speech. My daughter loved it and got the recipe for me. I love it too.

This was a huge hit at my daughter's Communion party! Looked and tasted delicious and was pretty easy to put together, too. I let it chill about 12 hours before serving and the flavors really came together. Lots of recipe requests, too! A couple of my kids said it tasted like pumpkin pie, which is their favorite. Thanks for posting this unique recipe :)
Mix margarine, sugar, graham cracker crumbs.
Press into a 9x13-inch pan.
Beat cream cheese until smooth.
Add 12 oz Cool Whip until blended; spread over crust.
Make pudding with ½ of the milk called for on the box.
Mix well with pumpkin and cinnamon.
Spread over first layer.
Spread cool whip over pumpkin layer and sprinkle with nuts.
Refrigerate until cold.