Pressure Cooker Beef Stroganoff With Pasta
Laka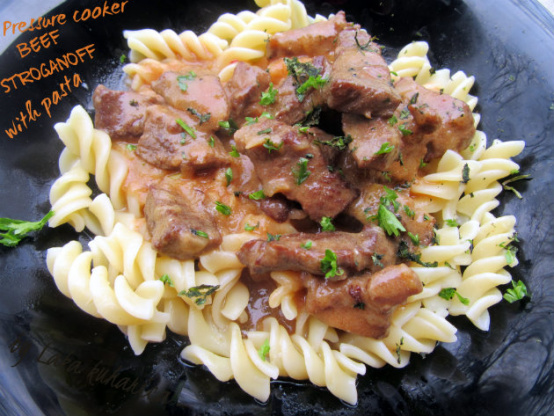 Recipe by Laka
This Russian dish has been around for several centuries and here is a delicious rendition that pays tribute to this gourmet dish.
In a pressure cooker pan, heat the olive oil. Quickly sear the beef in batches until browned on both sides. Remove the meat with slotted spoon and set aside.
Add the onion to the pan and sauté for 2 minutes until soft. Stir in the flour for 1 min, then gradually stir in the stock. Bubble for 5 minutes until thickened.
Stir in the mustard, purée, cream and black pepper. Return the beef to the pan, cover and lock lid on pressure cooker. Bring to pressure.
When pressure is reached, turn heat down to low. Continue cooking for 15 minutes. Release pressure naturally.
Cook the pasta according to manufacturer's instructions, drain and serve with the creamy Stroganoff.