President Reagan's Favorite Macaroni and Cheese
Pneuma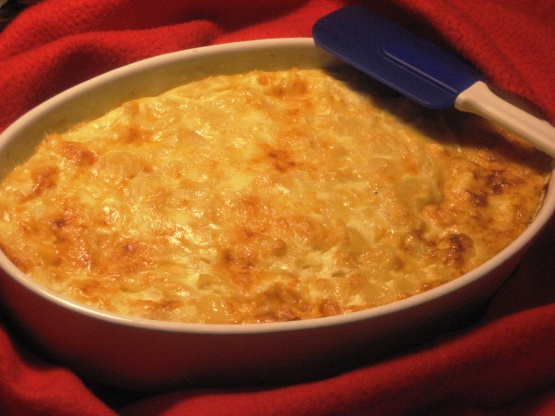 This is one of President Regan's favorite dishes, presented by Nancy Reagan.

I added more pasta as there was quite a bit of cheese but instead of adding the mustard, I added some pesto approx. one and a half table spoons which really gave it that extra bit of flavour which was needed as it was a little bland. What is also nice and kind of finishes it off is to add sliced tomatoe onto the top and then sprinkle on remaining cheese with some herb and garlic flakes and walla a delicious meal is had by all!!On the whole though it is one of those very easy dishes to make after a tiring day and you don't want to have to stand over the stove.
Boil macaroni in water until tender and drain thoroughly.
Stir in butter and egg.
Mix mustard and salt with 1T hot water, and add to milk.
Add cheese, leaving enough to sprinkle on top.
Pour into buttered casserole; add milk, sprinkle with cheese.
Bake at 350°F for about 45 minutes or until custard is set and top is crusty.