Juenessa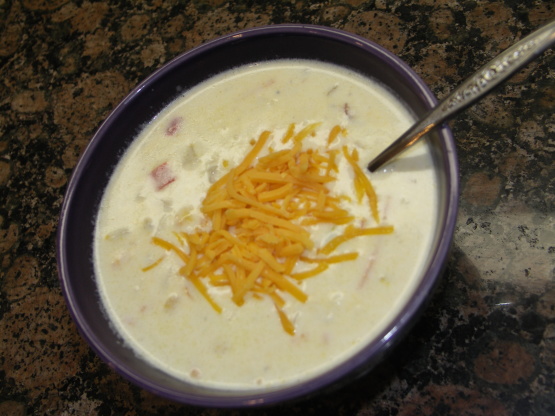 This is another VERY QUICK and EASY, yet VERY TASTY soup. This recipe was handed down to me by my mother (who would usually rather eat out than cook). My family loves this with a salad and bread. It is comforting on a cold winter day.

My husband loved this chowder! I used the southern style hashbrowns with onions and peppers included in the package. I also had about a cup of heavy cream to use up, then used the other cup as half-and-half. I did feel that the soup needed to be thickened up just a bit, so was glad that the instructions stated to thicken with flour water. It turned out perfect. Before serving, I added about 1 cup of cheddar cheese to the chowder and stirred it until it was just melted. (We love cheese!) Then, I added a sprinkle of cheese on top for garnish. Thanks, Trisha W for a tasty meal!
Melt butter in large sauce pan.
Sauté carrots and onion until soft, not brown.
Stir in potatoes, broth, salt and pepper.
Bring to a boil, simmer 10 minutes or until potatoes are tender.
Stir in cream and heat through.
Thicken with flour water.