Rita1652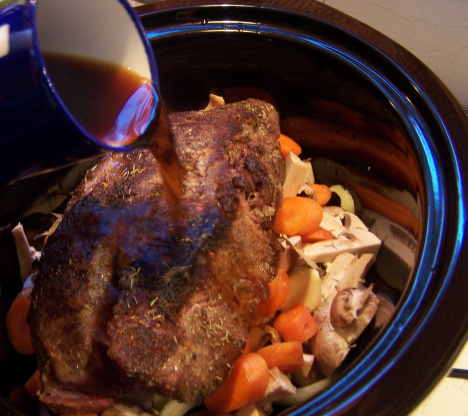 The addition of coffee and a tad whiskey makes an incredibly rich and beefy gravy for this pot roast. The roast is slow-cooked in the oven until fork tender. Serve with hot, buttered noodles or traditional mashed potatoes and a veggie/salad of your choice. (Note: I have also tweaked this when in the mood by adding a few cloves of garlic when sauteeing the onion and halved mushrooms to the dutch oven while baking.

NO knife needed here! I well seasoned the chuck roast and then coated with searing flour. Browned on all sides. Added raw sliced mushrooms, carrots along with the onions. Placed the veggies and 3 cloves of garlic into a crock pot topped with the browned beef. Sprinkled the thyme and bay on top. Poured 1 cup coffee and 1 cup water over all. I used 1/2 the liquids because the crock method doesn`t require as much. And the veggies gave off much of their own juices. Cooked on low for 7 hours resulting in a very tender no knife needed piece of meat! I did add the whiskey which gave off more an aroma then flavor. Nice! I served with Recipe #46925 Thanks! Made for the http://www.recipezaar.com/bb/viewtopic.zsp?t=288536&postdays=0&postorder=asc&start=0 Comfort Cafe
Preheat oven to 325°F.
On a large plate or platter, stir together flour, salt, and pepper. Dip the beef roast into the seasoned flour, discarding any excess.
Heat the oil in a large, heavy ovenproof skillet or dutch oven over medium heat until hot. Add the roast and brown on all sides, about 5 minutes a side. Remove the roast from the skillet and set aside.
Add onions to the drippings in the skillet and saute over medium heat until they are softened. Return the roast to the skillet; add bay leaves, thyme, water and coffee. Bring to a simmer, stirring and turning to combine the seasonings with the roast.
Cover and place the skillet in the oven. Bake for 3 to 3-1/2 hours or until fork tender. Remove the roast from the skillet, discard any bones or gristle and set aside, loosely covered with aluminum foil.
To prepare the gravy, place the skillet over medium heat, skim off any excess fat and add water, if necessary, to equal about 2-1/2 cups liquid. Sprinkle the instant flour over the gravy in the skillet and cook about 5 minutes, stirring until smooth and thickened. Stir in the butter and whiskey, if desired, and season with salt and pepper.
Return the roast to the skillet to warm in the gravy, then serve with plenty of hot, buttered wide egg noodles or mashed potatoes.