Porotos Granados (Bean Stew)
Prep 15 mins
Cook 50 mins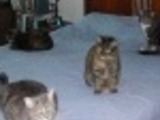 Posted for Zaar World Tour 2005. It's from a special edition of Saveur, The Best of Tex-Mex Cooking. They recommend you use 2 cups dried navy beans soaked overnight, but I've altered the recipe and cooking time for canned. I also halved the amount of oil. When I tried this it made a rather soupy stew; if you prefer your stews drier, I suggest cutting back on the broth, and add more if it gets too dry.
Directions
Heat oil in large pot over medium-low heat. Stir in paprika, then add onions and cook until soft, about 15 minutes.
Add navy beans and broth to pot, then add winter squash and lima beans. Cover and simmer over low heat until squash begins to soften, about 30 minutes. Add up to 1/4 cup water if mixture becomes too dry.
Stir corn and basil into pot and cook, uncovered, until the corn is tender and sauce is thick, about 5 minutes. Season to taste with salt and pepper.
Most Helpful
This is a classic Chilean summer dish. It's traditionally made with fresh tortola beans (not found in the US) but lima, pinto or canolli beans could be good substitutes. The Chilean squash is also different, with a deep orange, almost red color and very sweet and flavorful.

One thing that's missing from the original recipe is French-cut green beans. They add a lot of flavor and complement the corn very well. Another addition that my family also uses a lot (I'm Chilean) is basil. Other variations include additional large quartered onions cooked in whole chunks along with the beans, providing a good texture and additional onion flavor.

This is the closest recipe I've found to dish I've had many times in Chile. It's very nutritious and hearty, not to mention delicious. It's very easy to make and a nice dish to make for a crowd because it's unique and inexpensive. I take issue with suggesting using only one type of bean because it's traditional to use both. The navy bean and the squash turn into a lovely puree that enrobes the lima beans and corn. Overall it's a great recipe.
The recipe looks good, but I would suggest using either navy beans, or lima beans, but not both. Chile is NOT Mexico, it's about 7,000 MILES AWAY from Mexico, and their cuisines are nothing alike. You might want to consider re-categorizing your recipe.