Pork Roast With Peach Chutney
Parsley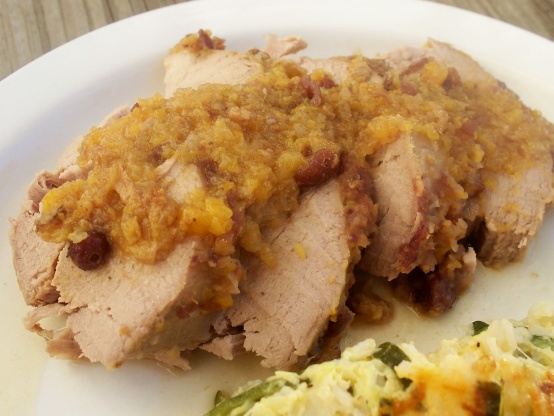 A crockpot meal makes the whole house smell delicious and is very welcome when coming home from a long day at work. This is a delicious, moist recipe that is quick and easy to prepare.

This is good! The juice soaked up into my meat (which has never happened on any other recipe that I have made with a pork ternderloin) and made it so moist, and juicy and tasty and good! I hope it does that each time I make it! All four of us enjoyed eating this. My crockpot cooks a little hot, so I didn't have to cook it as long as recommended. I used 4 fresh peaches rather than canned, but's nice to know I can use both. Thanks!
Combine all ingredients except pork roast in food processor.
Process until coarsely chopped.
Place roast in crockpot and pour chutney over top.
Cover and cook on low for 8 hours.