Pork Chops with Thyme Sauce
teresas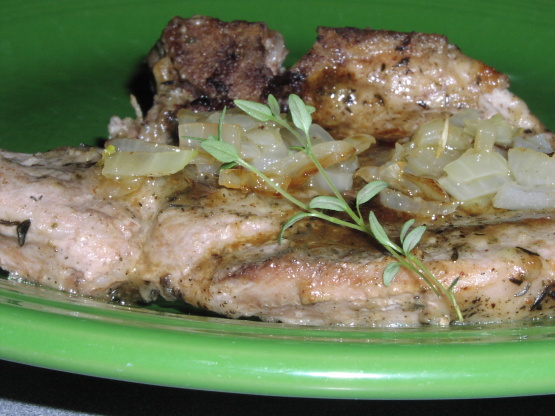 This is a easy and delicious recipe for pork chops. Wonderful served with mashed potatoes, rice or flat noodles, green salad and rolls.
I love pork chops. I used herbs I had harvested from my garden - not quite fresh, but better than in the stores. The chops were moist, not dry. I did skip the onions, as I just didn't have any at home and my husband is not overly fond of them. Have two chops left, think they will be great for leftovers.
Saute onion in butter.
Remove onions and keep warm.
Combine garlic, pepper, flour, sage and thyme and press onto both sides of meat.
Brown pork chops in pan with remaining butter, remove the chops.
Add 1/2 cup wine to pan and bring to a boil.
Return pork chops to pan and cover, reduce heat to a simmer for 30 minutes.
Remove pork chops and add remaining 1/4 cup wine to pan.
Broil over high heat until reduced to a syrupy glaze.
Pour sauce over chops and top with onions.
Enjoy--.