Pork Chops That Actually Stay Moist!
Ms B.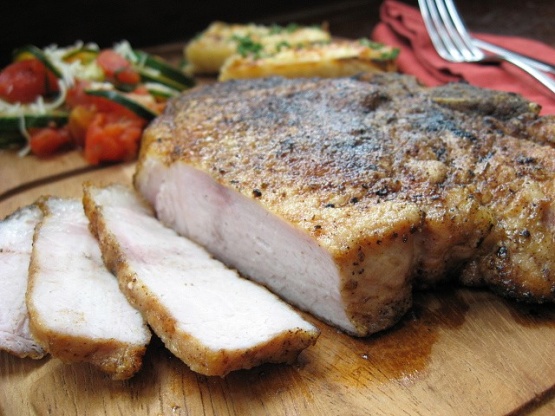 Seriously folks, I thought moist pork chops were a myth... until I found this recipe! Cornstarch added to the flour coating is the trick to keeping these puppies moist and tender. This is a recipe from Emeril Lagasse.

This simple recipe was awesome! Thank you! Never would have thought to put Cajun on pork but we loved it. Will use this recipe over and over.
6

pork chops (boneless or bone-in, whatever floats your boat)

3

tablespoons creole seasoning
3⁄4 cup all-purpose flour
1⁄4 cup cornstarch
Season the chops on both sides with 2 tablespoons of the creole seasoning.
Combine the flour, cornstarch and remaining tablespoon of creole seasoning in a shallow bowl. Dredge the pork chops in the flour mixture.
In a large cast-iron skillet or saute pan, heat the oil over high heat. Add the pork chops in batches and cook until golden brown and medium, 5 to 6 minutes per side.
Remove and drain on paper towels. Season lightly with salt and pepper.