Linky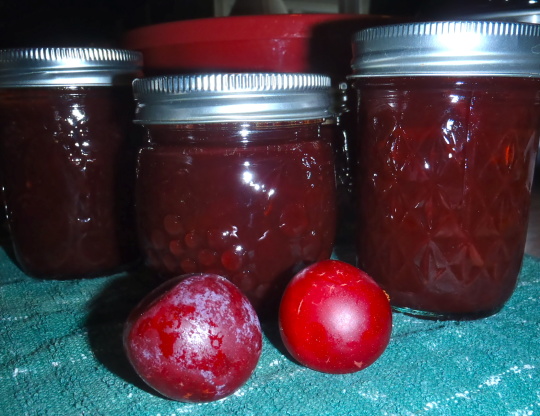 Mrs. C. Alfred Bergsten's recipe from the Philathea Cook Book of Elim Baptist Church in Minneapolis, Minnesota from 1945. She noted until the recipe name "Very Good." This is a base recipe- it is always 2 cups sugar for every 1 cup of chopped plums you have.

So simple and so good. I used the 1 to 1 ratio …one cup fruit to one cup sugar and it tasted perfect. My plum were just a little under ripe but I can see if you have very ripe plums you could reduce the sugar even a little more. I did boil at 220 degrees for 20 minutes and did a 15 minute water bath. FYI I like the mixture to reach 220 when I'm not using pectin because I feel it makes it set better.
Wash and pit plums (any kind, red plums, Italian plums, etc).
Put through food chopper.
Add 2 cups sugar to each cup chopped plums.
Boil 5 minutes.
Place in jars.