Chipotle Plum Jam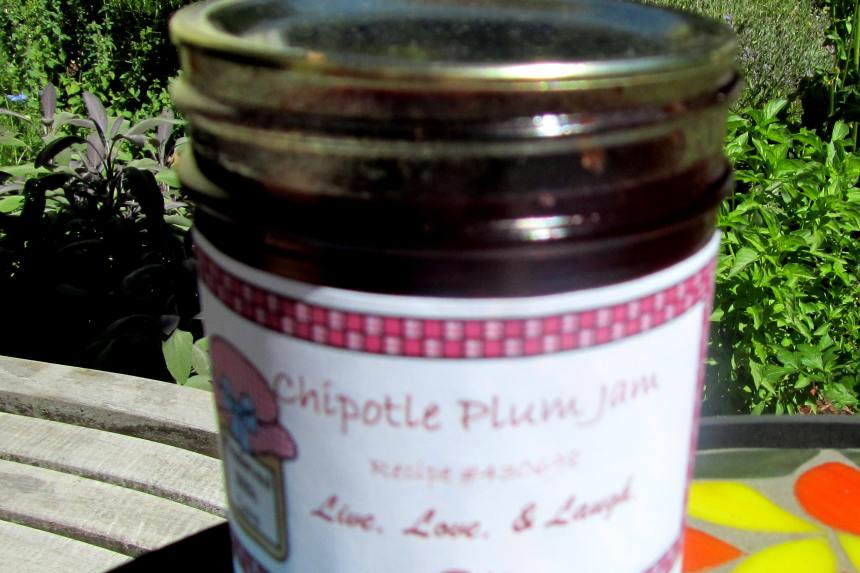 photo by Rita1652

Ready In:

50mins

Ingredients:

5
directions
Place all ingredients in a pot and bring to a boil.
Cook rapidly to the gelling point.
As it thickens stir frequently to prevent sticking.
When it's at the gelling point remove and pour into sterilized jars with a 1/4 inch head space.
Adjust caps and process for 15 minutes in a water bath.
Turn off flame and remove lid. Let sit 5 minutes.
Remove to a draft free spot and leave for 12 hours. Remove rings and wipe jars, label, store in a dark pantry and enjoy!
Reviews
Temperature test The jam is ready when the temperature registers 105ºC (221ºF) on a candy thermometer. Simply immerse the thermometer in the jam shortly before the specified cooking time is completed, keeping it away from the base and the sides of the pan. Leave in position until the temperature has been reached. Boil a little longer if necessary. Saucer test Drop a spoonful of the jam on to a chilled saucer and leave to cool slightly. Push your finger through the jam: if the surface wrinkles, the jam is ready. Return to the heat and boil a little longer if necessary. Flake test Using a large wooden spoon, lift a little of the jam out of the pan. Let it cool slightly then tip the spoon so that the jam drops back into the pan. If it has been boiled for long enough, drops of the syrup will run together along the edge of the spoon and form flakes which will break off sharply. Boil a little longer if necessary.

 

WOW! How wonderful is this! This recipe was chosen for the 40 pounds of plums we had for jammin. What a wonderful combination orange and chipotle are. Rita I am a fan of chipotle and love this recipe, as good on toast as I think it will be as a baste for chicken or pork. Only change I made was to use the ratio of 2 to 1 for the sugar. I have more plums ripening so there will be more of this made. Thank you for posting this delicious jam.

 

this is totally delicious, but no way does it make 8 pints. My daughter made it and she go eight half pints and I got seven. It took forever to get it up to 212 degrees. Also, I added some lemon zest, too. Yum. We used yellow plums for this batch, but I will try it again with purple plums later in the year.<br/><br/>Another thought...when the recipe calls for 4 pints (8 cups) of plumbs, there is no way you can possibly get 8 pints out of this unless you are a very holy person!! :)