Rita1652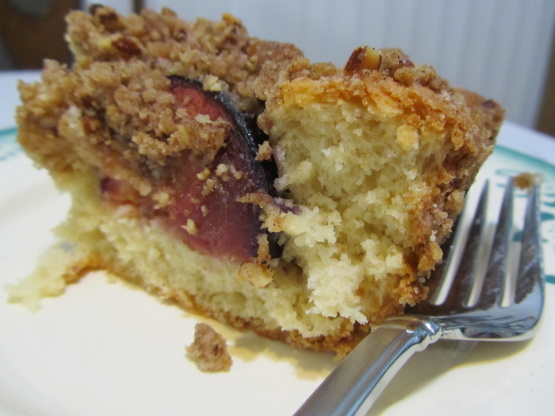 A sweet warm end to any meal. Be sure to sift the flour before baking. Each cup of sifted flour should weight 4 ounces. If using Italian plums do double or triple the amount. If you don't have buttermilk just add 1 tablespoon to a 1 cup measuring cup then fill with milk, let sit 10 minutes.
In mixing bowl, cream sugar, oil and eggs until fluffy.
Alternate in the buttermilk and vanilla with the sifted flour, salt and baking powder.
Spread batter in greased and floured 9" x 14" glass pan.
Top with rows of plum slices.
Combine crumb topping ingredients and mix until crumbly.
Sprinkle crumbs over plums.
Bake at 350� approximately 1 hour or until tested done.
Cut and serve warm with a scoop of vanilla ice cream.