awalde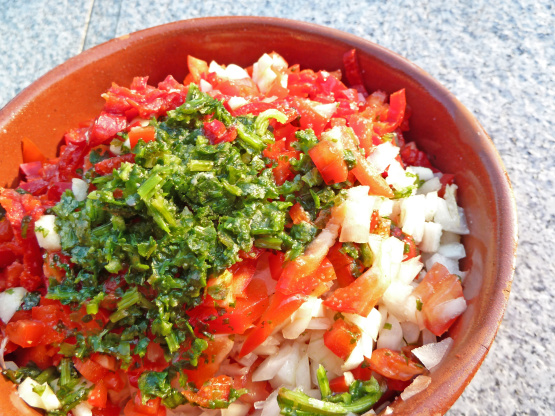 There are a number of Pico de Gallo recipes here on Zaar, but, I believe, not one just like this one, which comes from the 2004 Healthy Latino-Recipes Made with Love.

I am so glad I found this recipe! I have found that I use two large tomatoes (which end up weighing over 1lb), a small onion (which ends up only being about 3/4 cup cut up small), two large jalapeno peppers (which are about 1/2 cup cut up), the cilantro, garlic, and salt as directed, but only 2 tsp instead of Tbsp of lime juice. This makes for a SPICY salsa, but my family loves it! This along with the Mexican Rice (Recipe 117892, sorry I don't know how to add links) have become regulars for Mexican night at my house! (Sometimes I wish I hadn't found them because I don't get to order Mexican out anymore; my family thinks they are better then the take out we used to get!) For me this recipe actually takes more like 20-30 minutes to prepare. I am a slow cook with three small kids, but I can't imagine it only taking 5 including washing and seeding everything. And one word of caution: wear food prep gloves when you make it if you can! The first two times I made this my hands felt like they were on fire all night!
Combine all ingredients in medium bowl with a cover.
Serve immediately, using to season a meal or with tortilla chips, OR cover & refrigerate up to 3 days.