Nif_H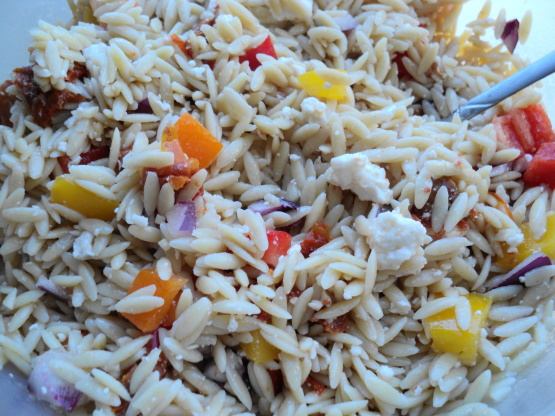 A great summer salad. My family loves this! When it is BBQing season we make it alot. You can change the amount of peppers or omit one(not a fan of green pepper) and add more of the peppers you like. I usually play with the oil and vinegar mixture to suit my taste. This is also better when it sits for awhile.

I love the versatility of this salad. Added fresh tomatoes and zucchini. Orzo works so well. Love it with goat cheese.
Thanks for posting!
Cook orzo for 7 minutes. Drain and rinse with cold water.
Add peppers, onion and sundried tomatoes to the orzo pasta and mix well.
Add oil and gradually add in the vinegar. Use your discretion if you want to add the entire 1/2 cup of vinegar.
Salt and pepper to taste.
Chill for at least 1 hour.
Fold in feta cheese right before serving.