Annacia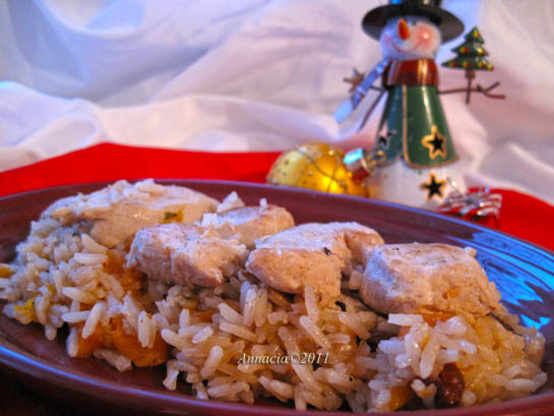 Posted for ZWT 6. This actually comes from the small Middle Eastern country of Oman. As for cutting the dried apricots, I suggest using kitchen scissors or shears dusted with flour. It makes them much easier to cut.

Top Review by Kimiya
It is a great recipie but mostley in iran when we want to serve chicken with rice we cook the chiken in tamato juice and some spices like saffron ( iranian saffron) the tomato juic and onion help the chicken to be more delicuos and have a better smell :) if you had any question about iranian food you can ask me thank for your recipie;)
In a soup pot, melt the butter and cook the chicken for about 15 minutes, until brown on both sides; remove the chicken to a platter. Add the onion, apricots, and raisins and saute over medium heat for 2-3 minutes. Add the chicken broth, salt, pepper, and cinnamon and bring to a boil. Add the rice and mix well. Return the chicken to the pot; reduce the heat to low, cover, and cook for about 25 minutes or until all the liquid is absorbed and the chicken is cooked through.