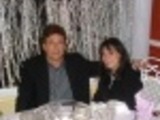 Posted for ZWT 6. This actually comes from the small Middle Eastern country of Oman. As for cutting the dried apricots, I suggest using kitchen scissors or shears dusted with flour. It makes them much easier to cut.
Directions
In a soup pot, melt the butter and cook the chicken for about 15 minutes, until brown on both sides; remove the chicken to a platter. Add the onion, apricots, and raisins and saute over medium heat for 2-3 minutes. Add the chicken broth, salt, pepper, and cinnamon and bring to a boil. Add the rice and mix well. Return the chicken to the pot; reduce the heat to low, cover, and cook for about 25 minutes or until all the liquid is absorbed and the chicken is cooked through.
Reviews
Most Helpful
It is a great recipie but mostley in iran when we want to serve chicken with rice we cook the chiken in tamato juice and some spices like saffron ( iranian saffron) the tomato juic and onion help the chicken to be more delicuos and have a better smell :) if you had any question about iranian food you can ask me thank for your recipie;)
What a delight. I made just one serving for myself and I wish I'd made 2 so that I'd have leftovers. Since it was just me tonight I used a chicken breast and cut back on the rice to 1/3 cup and still had more than I could use tonight so a good amount went into the fridge (yay). I likely used 1/2 a tsp or more of cinnamon but I'm a devout cinnamon lover and that worked for me. Both the apricots and raisins were very plump and tender at the end of cooking. It's very easyt too, you have to love one pot dishes :D. Thanks very much Jackie.