Boomette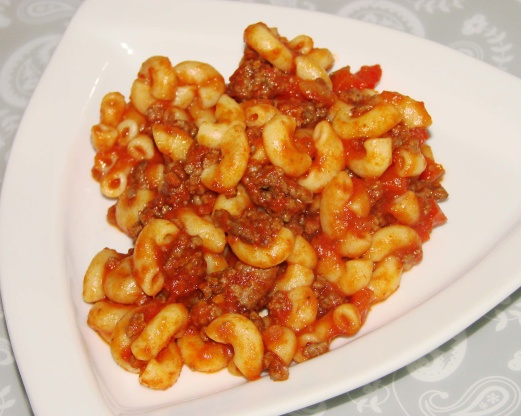 After a trip to the farmer's market, I was in love with the idea of red and orange peppers for 50 cents. At the grocery store, these cost about $2. So, we loaded up on red, orange and green peppers. But what to do with them? I wanted to make a sort of American goulash - the beef and macaroni in spaghetti sauce. But what if I added peppers? Would that make it better - or worse? I'm happy to say it is better! This is not super flashy, out-of-this-world gourmet or spicy. It's kid friendly. It's quick and easy. It's also very healthy with lean ground beef. Prep time includes boiling the water and chopping the peppers while lecturing two small children, so your time may vary. I hope you enjoy this as much as my children and I did! I can't wait for hubby to eat some when he gets home.
Add water to a large pot, place on stove and turn on high.
Run over to the table and frantically chop up the green and orange peppers into chunks. No need to dice or mince.
When the water boils, add the shell macaroni.
Dump the pasta sauce into a large sauce pan (about 3 quarts). Add maybe 1/4 cup of water to the jar, tightly close the lid, shake and empty rest of sauce into the pan. No waste! Heat on medium.
Drop ground beef into large frying pan on medium heat.
When the ground beef is about half cooked, pour in the peppers. Stir it all together. At this point, you might also drop in salt (I used sea salt - about 1 teaspoon) and onion powder (I added a lot - maybe 1 tablespoon). I didn't have an onion on hand.
When the macaroni is done, add it to the pasta sauce.
When the beef is cooked through and the peppers look a bit limp, drain the grease. (I didn't have the muscles, empty cans or lid for pouring it out, so I just wad up a paper towel, tilt the pan and let the grease collect in the paper towel. It works for me.).
Add the beef and peppers to the pasta sauce and macaroni. Stir it all together, heat through and serve.