Pecan White Chocolate Chip Cookies
Prep 10 mins
Cook 12 mins

The combination of pecans, white chocolate and oatmeal is fantastic. This is a variation on a recipe from Anne Bloski, one of the best cooks I have known.
Directions
Preheat oven to 375°F.
In a bowl mix together margarine, brown sugar and white sugar until light and fluffy. Beat in eggs, one at a time, and vanilla.
Stir in oatmeal.
Sift flour, baking powder, baking soda into the mix. Stir together until combined.
Add in pecans and white chocolate chips.
Bake at 375°F for 10-12 minutes or until done to your liking.
*I like a soft chewy cookie so I usually bake 9-10 minutes. They will firm up on the tray if you let them cool a few minutes before removing them. A longer bake will produce a crisper cookie.
Most Helpful
These were delicious! I took them to a get-together and everyone raved about them. The only change I made was to make bar cookies instead drop. I spread the batter in a 10x15 stoneware bar pan and baked at 375 for 18 min. Much less mess and prep time. I will definately be making these again. Maybe next time I'll go for a chewier cookie and take them out of the oven a minute or two sooner.
Amazing cookie!!! I needed to force myself to stop eating these! What an outstanding combination of flavors. Funny thing is I'm not a really big fan of white chocolate chips, but had some to use up. The butter (I used 1 cup of butter) and the pecans and oatmeal gives this a toffee/shortbread kind of taste. I bet these would be great with butterscotch chips or even chocolate. I made this batch to give away for a church thing and now I don't want them to leave my house! This is surely a repeat favorite for our family. Pam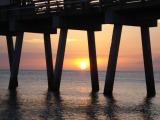 Made as directed, and they turned out perfect in every way. My kind of cookie recipe--uncomplicated and tasty. Thanks for sharing, Lee_tah.