Peanut Butter S'mores Cookies
Bayhill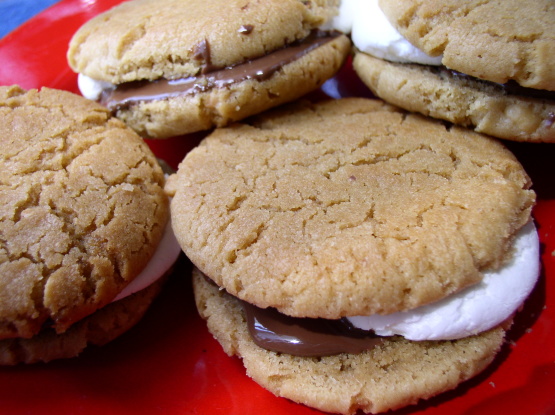 This is something Ive made up using my favourite peanut butter cookie recipe and adding some chocolate and some of my homemade marshmallow in the middle and sandwich together! they are a real treat and really delicious!!!!!
S'mores with a twist...yum!! I love s'mores and I love peanut butter cookies, so I knew that I would love these. Boy, was I right. These cookies go together very quickly and easily and are sooo good. I must have made mine a little larger because I only got 18 cookies instead of 24. Also, since I used large marshmallows, I cut them in half and put both halves next to each other on each cookie. I returned them to the oven for a couple of minutes to soften the marshmallow. After removing them from the oven, I sandwiched them together with the chocolate halves. For bakers in the USA, I used 1 stick + 2/3 TBS. margarine and baked the cookies at 350F degrees. My family loved these and gave them 2-thumbs up. Thank you for sharing this wonderful recipe...it is definitely a keeper!!
Cookies.
Cream butter, brown sugar and white sugar, add peanut butter and stir till combined.
Add egg, milk & vanilla, mix till smooth.
Combine flour, baking soda and salt in bowl. Add peanut mixture mixing well. Roll tablespoon sized amounts into round balls.
Arrange on cookie sheets.
Bake at 180 degrees celsius for around 6 minutes, take out of oven and flatten with a spatula and return to oven for further 6 minutes.
Remove from oven and turn over half the cookies and place a piece of chocolate on the overturned cookies, let sit for a minute till choc melts then place the marshmallow on top, press down with the other half of the cookies.