Peanut Butter S'mores Cookies
Bayhill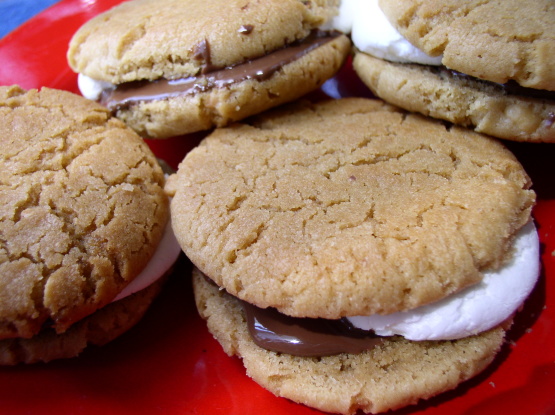 This is something Ive made up using my favourite peanut butter cookie recipe and adding some chocolate and some of my homemade marshmallow in the middle and sandwich together! they are a real treat and really delicious!!!!!
Top Review by ambj73
Forget crunchy graham crackers...not sure I'll be able to enjoy a regular s'more ever again. These are amazing! I thank the first reviewer for helping with the US conversions. Having made these twice now, I finally found my rhythm. I know it's not energy efficient, but my method is about 3 or so minutes into the second 6 minutes (after they've been flattened), I open the oven, flip half the cookies and put a full marshmallow on those and put them all back in for another 2-3 minutes. Once out of the oven and I've flipped the other half, I put 3-4 bittersweet chocolate chips on them and wait a bit before sandwiching them. They look like adorable little whoopie pies, but they're pb s'mores and so delicious. =) Thanks for sharing!
Cookies.
Cream butter, brown sugar and white sugar, add peanut butter and stir till combined.
Add egg, milk & vanilla, mix till smooth.
Combine flour, baking soda and salt in bowl. Add peanut mixture mixing well. Roll tablespoon sized amounts into round balls.
Arrange on cookie sheets.
Bake at 180 degrees celsius for around 6 minutes, take out of oven and flatten with a spatula and return to oven for further 6 minutes.
Remove from oven and turn over half the cookies and place a piece of chocolate on the overturned cookies, let sit for a minute till choc melts then place the marshmallow on top, press down with the other half of the cookies.