Peanut Butter Pie (Frozen)

Directions
In a medium bowl, blend together cream cheese, sugar and peanut butter.
Slowly add the milk while beathing, so your mixture is creamy.
Continue beating until fluffy.
Fold in the nondairy whipped topping.
Pour the mixture into the graham cracker crust pie shell.
Swill the fudge sauce through the pie (i usually use a butter knife)
Freeze until firm.
Reviews
Most Helpful
Yes, this is very good. I love reese's peanut butter cups and this sounded like it would be close. I had not realized that most non-dairy whipped cream products were made with high fructose corn syrup since I don't use them. Fortunately I found one at my market that was made without high fructose corn syrup. This guy is bad enough for you as it is without adding in unnatural ingredients. By the way, the fat-free cool whip still has high fructose corn syrup in it. You're better off with the high fat sugared product - ha. Finally, as Dreamgoddess has mentioned, the filling was a little more than my standard sized pie crust could take but I just pilled it on top.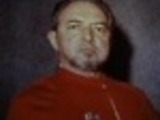 I agree - this was oh sooo yummy! I used light cream cheese, skim milk, and fat-free cool whip (8 oz container) so this ended up a fairly light and still delicious dessert! Also used an oreo crust. This had a lovely fluffy texture and a nice peanut buttery taste. Thanks for the recipe!

So simple to make and wonderfully delicious! I used a regular graham cracker crust, but will use a deep dish one when I make this again. I couldn't quite fit all the filling in the regular crust. Made for PAC Spring 2009.