K9 Owned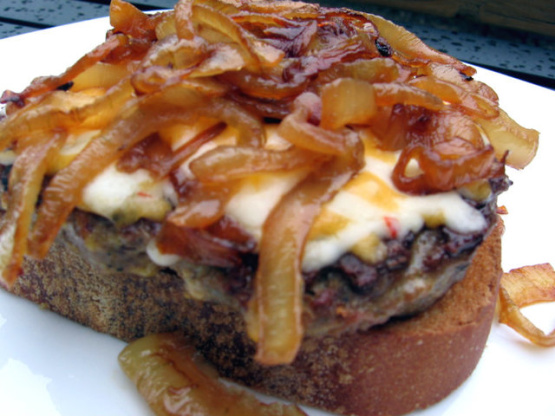 Really good with fries and slaw. ETA: I really like the finished sandwich fried like a grilled cheese. When I make them that way I toast my rye on the bagel setting, assembling the sandwich "toasted side in". I also add Thousand Island Dressing on top of the onions. Then butter the bread and fry "like a grilled cheese sandwich". Nirvana!

My family and I thought this was so YUMMY!! The patties were well seasoned and tender. The sauteed onions and Swiss cheese make this the total package. Thanks Diana for another one of your superb recipes.
Mix together the ingredients from beef to bread crumbs-mix well and form into 4 patties.
In a large skillet cook patties.
Meanwhile- In a medium skillet melt butter over medium, medium high heat.
Add onions and saute until light brown.
Meanwhile- Toast bread and place on 4 plates.
Place hot patty on toast, then swiss, then hot onions.
Salt and pepper to taste.