Boomette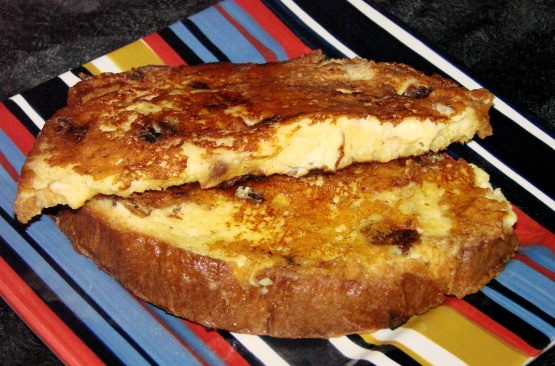 Great for a special breakfast or brunch. Easy but so delicious. Taken from Giada (Everyday Italian).

Discovered a large panettone behind some "stuff", which was bought before Christmas LAST year, and was just sitting in the cellophane bag and box, not frozen, nor protected any other way. We looked it over -- no evidence of mold -- was a tad dry, but we toasted a slice and it appeared fine. DH prepared half of this recipe for French Toast (not the syrup)-he topped with maple syrup and I, with cinnamon/sugar. YUMMMM! We have since picked up some newer ones, and will have this when the family comes to spend the night. Thanks for posting this, WN. DH NEVER misses a Giada show -- she has such GREAT teeth !
To make the syrup: Combine 1 cup of water and brown sugar in a heavy medium saucepan.
Bring to a boil over high heat, stirring until the sugar dissolves.
Boil until the syrup reduces to 1 cup, about 10 minutes.
Remove from the heat and whisk in the cream and cinnamon.
Keep the syrup warm. (The syrup can be made 1 day ahead. Cool, then cover and refrigerate. Rewarm before serving.).
Meanwhile, prepare the French toast: Preheat the oven to 200 degrees F.
Trim the bottom crust of the panettone.
Starting at the bottom end of the panettone, cut it crosswise into 6 (3/4-inch thick) round slices (reserve the top piece for toast!).
In a large bowl, whisk the eggs until well blended.
Add the cream, milk, and sugar and whisk until well mixed.
Melt 1 tablespoon of butter on a large nonstick griddle over medium heat.
Dip 3 slices of panettone into the custard, turning to allow both sides to absorb the custard.
Grill the soaked panettone slices until they are golden brown and firm to the touch, about 4 minutes per side.
Transfer the French toast to a baking sheet and keep them warm in the oven.
Repeat with the remaining butter, panettone slices, and custard.
Transfer the French toast to plates.
Dollop the mascarpone atop each.
Lightly dust with the powdered sugar.
Drizzle the cinnamon syrup over and around the French toast and serve immediately.